Somali offshore oil dreams threatened by border dispute
Somalian offshore blocks, soon to be offered to interested oil companies as part of its first offshore licensing round, could hold billions of barrels of oil equivalent, however, maritime dispute with Kenya and other political risks could hamper its efforts towards fulfilling its offshore oil production dream.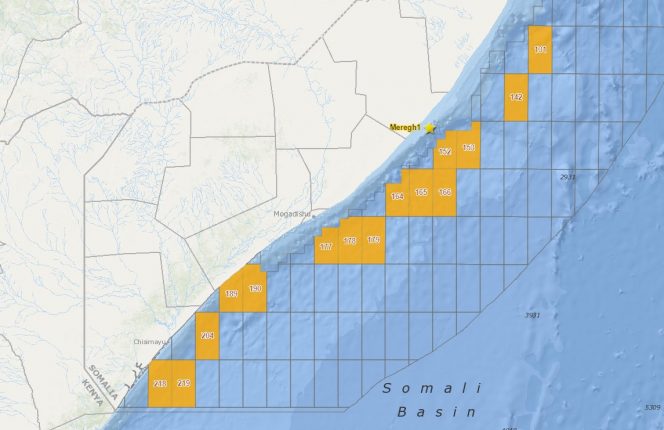 Somalia is hoping to not just replicate offshore successes of other East African countries such as Mozambique and Tanzania where up to 200 tcf of gas has been discovered in the past few years.
Namely, according to Spectrum, a seismic company which acquired new seismic data offshore Somalia in 2014-2016, its surveying works have also revealed what has previously been missing from the East African offshore areas – oil.
The seismic company has said there are a significant number of large undrilled prospects in Somalia, a country not explored for 25 years due to the civil war and political turmoil.
Somalia's offshore offer will consist of 15 blocks, and the round is set to close on in November 2019, with pre-qualification applications due on July 11, 2019, according to info found on Spectrum's website.
While there's a reason for optimism when it comes to Somalia's oil and gas exploration potential a report issued this week by Fitch Solutions looks at the potential geopolitical risk problem.
Namely, in its report (requests free-registration) Fitch Solutions said: "The country scores poorly on all fronts, both in terms of political and economic risk, on the short- and long-term, making for an unattractive investment and business operating environment. "
Dispute with Kenya
Fitch Solutions further said that that licensing of exploration blocks offshore Somalia risks further igniting tensions with neighboring Kenya over a maritime border dispute.
Fitch provided a map of the disputed area which is more that 100,000 kilometers big, and contains three blocks operated by Eni, with both Somalia and Kenya claiming rights there.
Fitch said: "The disputed triangle of water stretches over an area of more than 100,000sq km, and is believed to hold valuable hydrocarbon deposits. In 2014, Somalia sued Kenya at the International Court of Justice (ICJ). In its February 2017 judgment, the ICJ decided to adjudicate the maritime dispute after negotiations between the two neighbors failed, but the court is yet to give an official hearing date.
"Somalia currently claims that Kenya's ongoing oil exploration activities in the disputed area are unlawful (Italian oil major Eni currently operates three blocks in the Kenyan deep offshore, located at the disputed Somali maritime border: L-21, L-23 and L-24). As a result of the recent spat, Kenya recalled its envoy to Somalia, and asked its Somali counterpart to return to Mogadishu for consultation with his government."
 Read Fitch Solutions' full report here on Somalia here
According to a Reuters report earlier this week, Kenya has released a statement slamming Somalia's offshore block allocation and said it would defend its rights over those at any cost: "This unparalleled affront and illegal grab at the resources of Kenya will not go unanswered and is tantamount to an act of aggression against the people of Kenya and their resources."
Offshore Energy Today Staff
Related news
List of related news articles