Sumitomo, Toho Gas, K Line & Woodside explore CCS value chain feasibility between Australia and Japan
Japanese industry giants Sumitomo, Toho Gas, Kawasaki Kisen Kaisha (K Line) and Australian Woodside Energy (Woodside) have signed a non-binding memorandum of understanding (MOU) to jointly conduct a feasibility study to establish a carbon capture and storage value chain between Australia and Japan.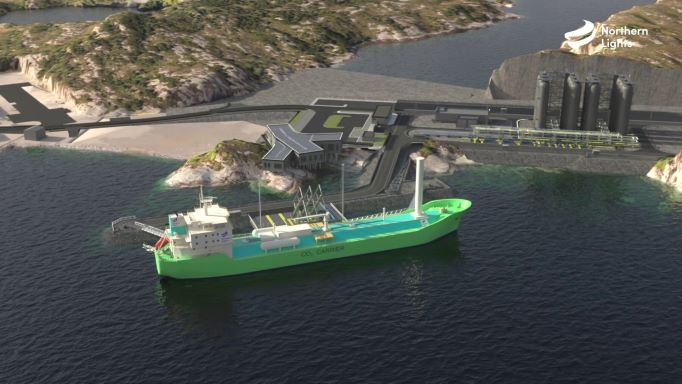 The study will investigate the feasibility of establishing an entire CCS value chain among the four companies, whereby CO2 emissions from various industries and companies in the Chubu region, Japan, are hoped to be captured/accumulated, and liquefied by using CO2 separation and capture technology by using unutilized LNG cryogenic energy being developed by Toho Gas.
The liquified CO2 would be then transported to Australia by a low-temperature, low-pressure liquefied CO2 carrier for injection/storage at an Australian storage site.
Through this study, the four companies will work on determining the amount of CO2 to be captured, examine the optimal CO2 capture, accumulation and transportation methods, estimate the amount of CO2 that can be stored at storage sites in Australia, and evaluate the necessary storage technologies and monitoring systems.
In addition to the technical requirements, the companies are planning to assess the relevant regulatory frameworks and the costs in each segment of the CCS value chain, as well as the commercial viability of the CCS business.
At the ened of last year, K Line signed a bareboat and time charter contracts with Northern Lights JV DA for two 7,500 m3 liquefied CO2 ships under construction in China.
China's Dalian Shipbuilding Industry Co. (DSIC) launched the construction of the two LNG-powered, wind-assisted CO2 carriers for Northern Lights, a joint venture of energy majors Shell, Equinor and TotalEnergies, in November 2022.
The ships are slated for delivery in 2024 and they are intended for loading captured and liquefied CO2 from European emitters, including the Norcem Brevik and Hafslund Oslo Celsio carbon capture facilities, and transporting it to the Northern Lights receiving terminal in Øygarden in western Norway.
Last week, Northern Lights placed an order for an additional LNG-powered, wind-assisted CO2 carrier at China's Dalian Shipbuilding Offshore Co. (DSOC). The new ship will bear the same characteristics as its sister ships and have a cargo capacity of 7,500 cbm.
The Japanese government has set a goal of reducing overall greenhouse gas (GHG) emissions to Net Zero by 2050 and implemented a policy to develop a business environment to initiate CCS projects by 2030 in its "Basic Policy for the Realization of GX".
CCS is expected to play a very important role in achieving GHG emission reduction targets as one of the primary decarbonization solutions.
Sumitomo Corporation, Toho Gas, K Line, and Woodside plan to exchange information, knowledge, and experiences through the progression of this CCS initiative. All four companies are taking part in the project as part of their own net-zero strategies and exploration of CCS as one of the key levers in decarbonizing the energy sector.