K Line hires CO2 carrier newbuilds intended for world's 1st full-scale CCS project
Japanese shipping major Kawasaki Kisen Kaisha (K Line) has entered into bareboat and time charter contracts with Northern Lights JV DA for two 7,500 m3 liquefied CO2 ships under construction in China.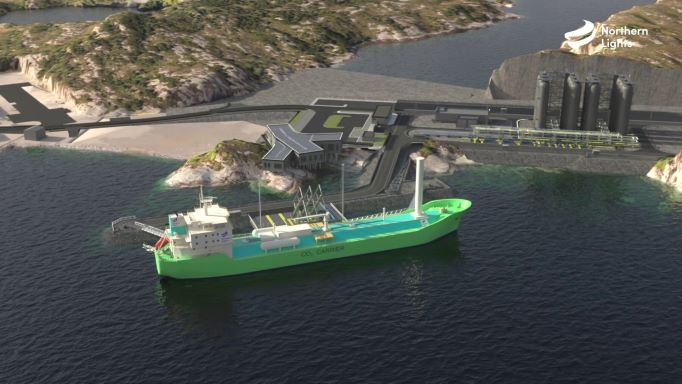 China's Dalian Shipbuilding Industry Co. (DSIC) launched the construction of the two LNG-powered, wind-assisted CO2 carriers for Northern Lights, a joint venture of energy majors Shell, Equinor and TotalEnergies, in November 2022.
The ships are slated for delivery in 2024 and they are intended for loading captured and liquefied CO2 from European emitters, including the Norcem Brevik and Hafslund Oslo Celsio carbon capture facilities, and transporting it to the Northern Lights receiving terminal in Øygarden in western Norway.
After being stored at the terminal, the captured CO2 would be transported by pipeline for permanent storage in a geological reservoir 2,600 meters under the seabed. The facilities are under construction and operations are scheduled to start in 2024. They will have the capacity to permanently store up to 1.5 million tons of CO2 per year, with the ambition to expand to over five million tons per year in a second development phase.
The project has been described as the world's first full-scale carbon capture and storage (CCS) value chain.
Once delivered, the ships will be classed by DNV and will be registered in Norway and operated under the Norwegian (NOR) flag by mainly Norwegian shipboard personnel.
The ships will use LNG as a primary fuel and they will be equipped with wind-assisted propulsion systems and air lubrication technology, anticipated to reduce carbon intensity by around 34% compared to conventional systems. The units will also feature ABB's shaft generator systems.
Cargo tank capacity:7,500 cbm
Length overall:130m
Breadth:21.2m
Draft:7.5m
Under the latest agreements, K Line's London-based subsidiary K LINE LNG Shipping (UK) Ltd. will undertake the management of the two ships transporting liquefied CO2.
"K Line has deep experience in liquefied gas transport and a strong safety and environmental track record. We are pleased to partner with K Line in operationalising this innovative value chain", said Børre Jacobsen, Managing Director of Northern Lights.
CO2 transport is seen as a key component to connect industrial emitters in Europe to suitable CO2 storage sites. Shipping is a scalable CO2 transport solution that is well-suited for sailing distances in Europe.
Northern Lights said that developing a flexible shipping solution as part of the world's first cross-border CO2 transport and storage network would contribute to the development of a market for CO2 storage.
With increased interest from industrial sectors in Europe, additional shipping and storage capacity will be developed as demand grows, the company added.
"We are honoured to participate in the Northern Lights project and contribute to the decarbonisation of industry. We have been able to develop a new field by making use of our decades of know-how in liquefied gas transport", said Yukikazu Myochin, President and CEO of K Line.
Northern Lights and K Line plan to work together in order to establish operational procedures for the safe transportation of liquefied CO2.