Swala gets extension for Orca transaction closing date
Orca Exploration Group has further extended the date by which the second and third closing of the $130 million acquisition of a stake in Orca's PAE Pan African Energy must be completed.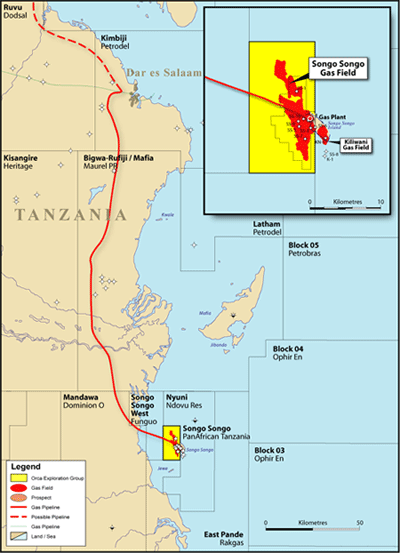 Orca said last Friday that Swala Oil & Gas must close its investment in Orca's subsidiary, PAE Pan African Energy Corporation, by July 13.
The company added that there were no assurances that one or more of the transactions would be completed or that they would be completed on the terms previously disclosed.
According to the agreement between the two companies, Tanzania's Swala Oil and Gas will buy up to a 40 percent stake in PAE Pan African Energy for $130 million.
Orca also said that it has closed the deferred consideration portion of the first closing of the Swala investment, pursuant to which Orca has received $3,966,500 face amount of Swala convertible preferred shares.
When completed, the investment will give Swala part ownership of PAE's Tanzanian subsidiary, which owns exploration and production rights for in the Songo Songo block. PAE Tanzania holds the block in partnership with the Tanzania Petroleum Development Corporation.
The Songo Songo gas field within the license is positioned on and slightly offshore the Songo Songo Island. The main reservoir is developed in Lower Cretaceous aged Neocomian to Albian sandstones, while Upper Cretaceous aged Cenomanian sands that lie unconformably on the Lower Cretaceous will provide an additional reservoir when developed. The field first started production in 2004.
The initial negotiations between the two companies were officially revealed back in August 2017, and then, in January 2018, Swala announced the financial terms and the payment of the first $25 million tranche.
This is the third extension granted by Orca, following the first extension in early April and the second in mid-May.
Through its subsidiaries, Orca operates one license in Tanzania which comprises two blocks. The blocks are located in shallow water approximately 15 kilometers off the coast and 200 kilometers south of Dar es Salaam.