Talos, Hokchi swap interests offshore Mexico
U.S. oil firm Talos Energy has signed an agreement with Hokchi Energy to cross-assign Talos' Participating Interest ("PI") in Block 2 and Hokchi's PI in Block 31, both in the Sureste Basin offshore Mexico.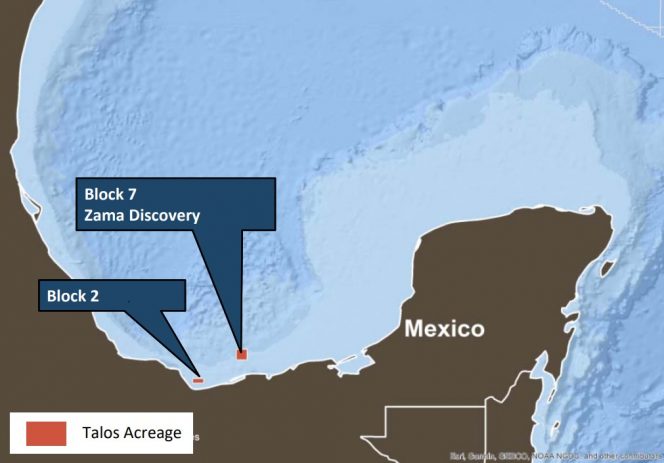 Under the agreed conditions for the swap, Talos will assign a 25% PI in Block 2 to Hokchi in exchange for a 25% PI in Block 31, which sits immediately to the south of Block 2. Once the transaction is completed, Hokchi will be the operator of both blocks and Talos will own a 25% PI on Block 2 and a 25% PI on Block 31.
Talos was awarded the Production Sharing Contract ("PSC") for Block 2 in September of 2015. Hokchi, a subsidiary of Pan American, was awarded the PSC for Block 31 as part of a competitive bidding process on Round 3.1 in June of 2018.
Apart from the Block 1, Talos is the operator of Block 7, where it is working to develop the world-class Zama discovery made in 2017.
Timothy S. Duncan, President and CEO of Talos: "On both of our Mexican assets, we are taking action to facilitate quicker, more robust investment and shorter cycle time to production, and potentially a more material level of production."
"The swap with Hokchi is a great way to pool resources between two operators that have a proven track-record in offshore Mexico. And this trade also allows us to aggregate our neighboring opportunities. We look forward to working alongside the Pan American team on Blocks 2 and 31 while we focus our operational efforts not only on Zama but the other material opportunities we have put together on the Block 7 acreage."
Drilling in 2019
As part of Talos' broad investment in Mexico, the Company utilizes proprietary seismic reprocessing that includes both Block 2 and Block 31, and the Company sees the Hokchi swap as a way to aggregate and accelerate the investment in the various quality prospects existing in both blocks, specifically the Acan (formerly known as Bacab) prospect in Block 2, but also other high potential drilling opportunities in Block 31.
The exploration campaign will begin on Block 2 in 2Q 2019, where two wells will be drilled, starting with the Acan prospect. After that Talos plans to participate in two wells in Block 31. Beyond Acan, Blocks 2 and 31 contain a significant portfolio of compelling prospects with strong technical ties to offsetting discoveries, Talos said.
Related news
List of related news articles