TAQA submits plan for removal of Cormorant Alpha derrick
TAQA Bratani, a UK subsidiary of the Abu Dhabi National Energy Company, has submitted a draft plan for the derrick structure removal and modular drill rig installation on the Cormorant Alpha platform for consideration by the UK authorities.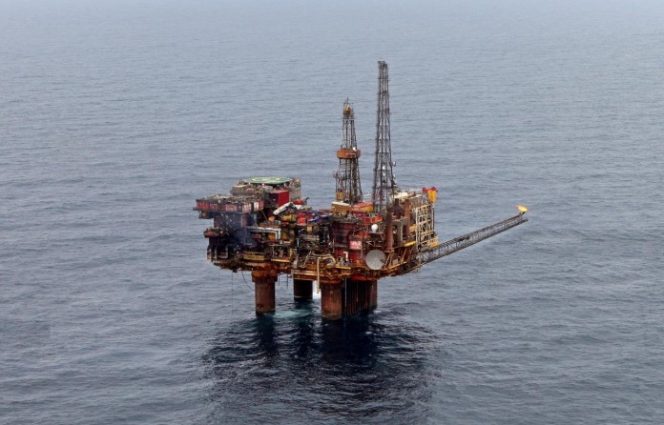 ---
The Cormorant Alpha platform is located in Block 211/26a in the Northern North Sea, some 103 kilometers northeast of Shetland and 41 kilometers west of the UK-Norway median line.
The platform consists of a four-leg concrete gravity base (CGB) with a steel box girder structure supporting two levels of modules on the topsides including the drilling derrick and sits in a water depth of approximately 155 meters.
The installed total weight of the drilling derrick, including the substructure and skid beams, is currently estimated to be approximately 763 tonnes.
Production from the Cormorant Alpha field is from 11 platform wells and five water injection wells. Live crude is imported from the North Cormorant, Brent Charlie, and North Alwyn platforms. Crude is exported directly to the Sullom Voe terminal together with the Cormorant production.
---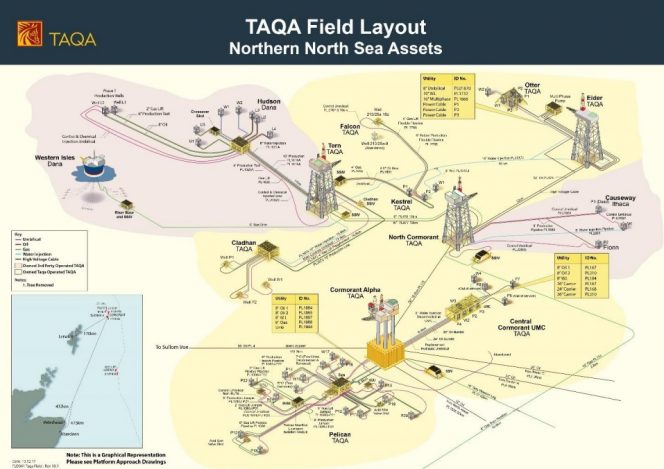 ---
As part of the planning for decommissioning and to obtain regulatory approval for the activities, a decom program was prepared by TAQA in 2019.
The plan for the drilling derrick removal does not cover well plugging and abandonment, or the flushing and cleaning operations that will be undertaken on the topsides. These activities will be carried out as part of the preparatory work preceding decommissioning, under existing field operational permits.
According to TAQA's plan, the current Cormorant Alpha drilling derrick has been idle since 2007. Surveys of the existing infrastructure indicate that it would be unsafe and uneconomical to reinstate existing infrastructure to carry out well plug and abandonment prior to platform decommissioning.
A modular drilling rig (MDR) was determined to be the only viable option to meet the requirements for the planned P&A campaign and the current forecasted cessation of production date. This requires the existing derrick and substructure to be removed to skid beam level, allowing for direct MDR access following removal.
The current schedule will see work undertaken to remove the drilling derrick in the second quarter through to the fourth quarter of 2020 and the mobilization of the leased MDR in the second quarter of 2021, with a view to start P&A activity after commissioning in the fourth quarter 2021.
Although no final decision has been made, TAQA's preferred removal methodology will most likely be by piece small. Such a removal involves the removal of certain elements of the drilling derrick infrastructure in manageable sections for transport via conventional supply vessels to shore.
Once the drilling derrick has been removed, a leased MDR will be installed in the same location on the platform. A standard PSV will be used to ship the MDR package from port to the Cormorant Alpha platform.