Total converts Avalon into Frontier Exploration License (Ireland)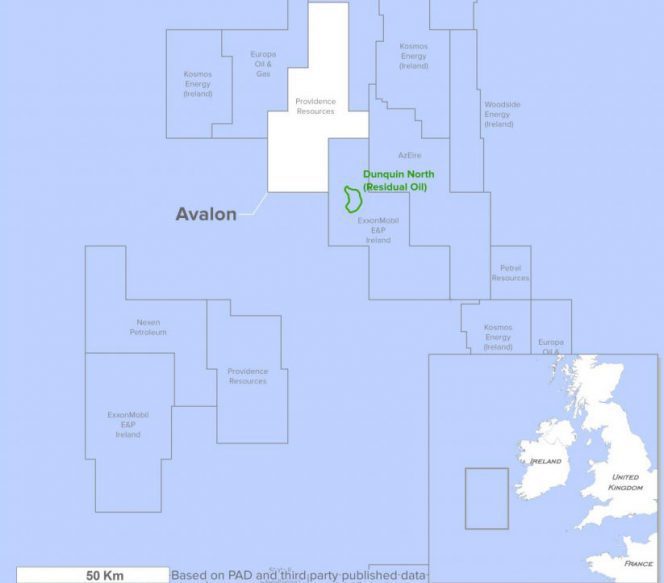 Irish oil and gas company Providence has informed that the Total-operated licensing option 16/27 offshore Ireland has been granted a Frontier Exploration License Status 2/19, with effect from February 1, 2019.
The offshore block is located in the southern Porcupine Basin offshore Ireland and contains the undrilled Paleocene "Avalon" exploration prospect.
It is operated by TOTAL E&P Ireland B.V. ("TOTAL") (50.0%), with partners being Providence Resources P.l.c. (40.0%) and Sosina Exploration Limited (10.0%).
The JV Partners recently applied to convert LO 16/27 to a Frontier Exploration Licence ("FEL") and are pleased to confirm that the Minister of State at the Department of Communications, Climate Action and Environment has now confirmed approval for the JV partners to convert LO 16/27 to FEL 2/19, with effect from February 1, 2019," Providence said.
Under the terms of a Farm-out Agreement agreed between the JV partners in June 2017, in the event that a decision is taken to drill an exploration well on Avalon, TOTAL will pay 60% of the drilling costs, subject to a gross well cap of  $ 42 million.
Dr John O'Sullivan, Technical Director at Providence, said: "We are very pleased to confirm approval from the Minister to progress the Avalon Licensing Option to Frontier Exploration Licence status.
"Avalon is a very large and exciting prospect, which lies adjacent to Dunquin North, and the JV Partners look forward to progressing it further under the Operatorship of TOTAL."