Total resumes Mozambique LNG work
The Total-led Mozambique LNG project will progressively resume construction activities at the Afungi site.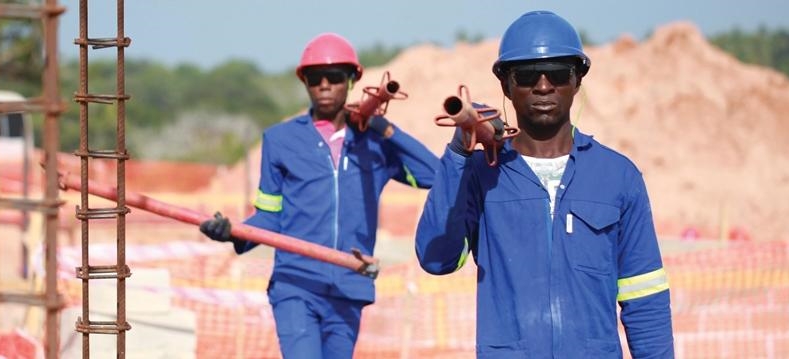 The French company noted in a statement on Wednesday that the activities will continue following the implementation of additional site security measures.
After the security events that occurred in December 2020 near the Mozambique LNG project site and led to the temporary demobilization of the project workforce, Total and the government of Mozambique have worked together to define and implement an action plan with the objective of reinforcing, in a sustained manner, the security of the Afungi site and of the surrounding area and neighboring villages.
The government of Mozambique has declared the area within a 25 km perimeter surrounding the Mozambique LNG project as a special security area, the statement reads.
A comprehensive roadmap, including the reinforcement of the security infrastructure and the strengthening of the public security forces, has been defined and implemented, allowing gradual remobilization of the project workforce and the resumption of LNG plant construction activities as well as community development programs carried out by the project.
The control of the special security area around the Afungi site remains ensured exclusively by public security forces assigned by the Mozambican Ministries of Defense and Interior, under a Memorandum of Understanding signed in July 2020 between the government of Mozambique and Total E&P Mozambique Area 1.
The Mozambique LNG project, which is in charge of the security of the construction site itself, does not use the services of any armed private security providers.
Moreover, Total informed on Wednesday that Mozambique LNG has satisfied all the conditions precedent and complied with all relevant statutory requirements for the first debt drawdown of the project financing signed on 15 July 2020 with eight export credit agencies, 19 commercial banks and the African Development Bank. This first drawdown will take place at the beginning of April 2021.
Total also confirmed its objective to deliver Mozambique LNG's first cargoes in 2024.
Italian contractor Saipem noted earlier the project is still on schedule. The company leads the CCS joint venture with McDermott and Chiyoda Corporation. The JV secured the engineering, procurement and construction of the onshore LNG project in Mozambique in June 2019. The deal was then reported to have a $8 billion price tag, with Saipem's share coming in at approximately $6 billion.
Once completed, the project will have the capacity to produce 12.8 million tons of LNG per annum, using feed gas from the offshore fields in Mozambique Area 1.