Update: Total selling non-core UK North Sea fields for $635 million
French oil major Total has agreed to sell $635 million worth of  UK North Sea assets to Petrogas NEO UK.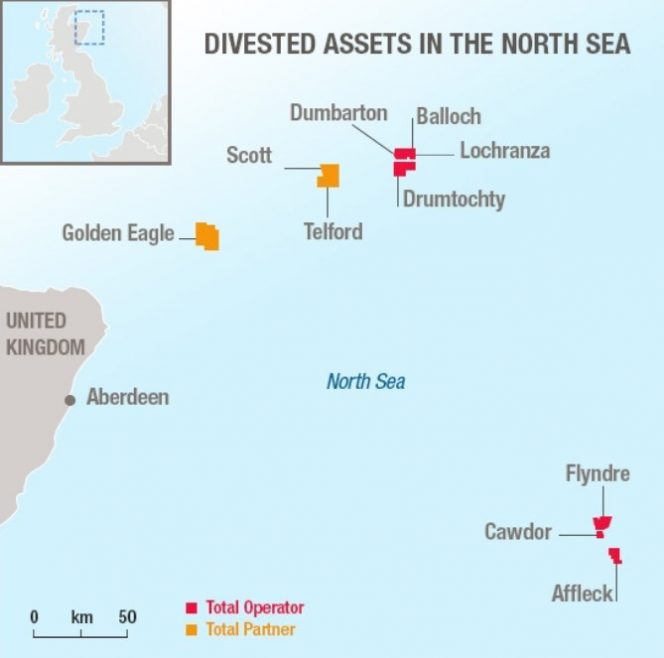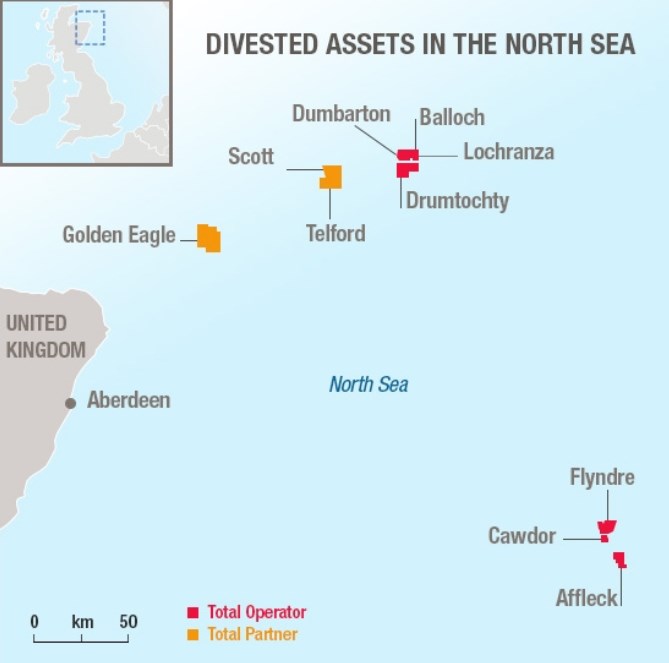 Total said Wednesday that the assets being sold, formerly owned by Maersk Oil, were non-core, and located in the Eastern North Sea. Total bough Maersk Oil in March 2018.
The deal will see Total sell its stakes in Dumbarton, Balloch, Lochranca, Drumtochty, Flyndre, Affleck, and Cawdor fields, all of which it operates. Total will also divest its ownership in CNOOC-operated fields Golden Eagle, Scott, and Telford.
The overall consideration for the deal with Petrogas NEO UK amounts to $635 million with an effective date of January 1, 2019. The transaction remains subject to approval from the relevant authorities and is expected to close in December 2019, Total said.
Arnaud Breuillac, President Exploration & Production at Total: "This transaction is consistent with our portfolio management strategy, aiming at lowering our break-even point by optimizing capital allocation and divesting high technical costs assets. Our primary objective is to maintain the organic break-even before dividend below $30 per barrel and high-grading our portfolio will help us achieve this."
Total is keeping the Culzean field in the UK which it also bought from Maersk. The field, located on Block 22/25a, 230 kilometers off the coast of Aberdeen, in the UK, started production in June.
Total equity production in the UK was of 179,000 boe/d in 2018. It principally comes from operated offshore fields in three major zones: the Alwyn/Dunbar area in the Northern North Sea, the Elgin/Franklin area in the Central North Sea, the Laggan-Tormore area in the West of Shetland area.
Petrogas is the exploration and production arm of the Oman-based conglomerate MB Holding. Petrogas has partnered with Norway-based private equity investor HitecVision, creating Petrogas NEO UK Ltd.
In a separate statement, Petrogas and HitecVision have confirmed the signing of the agreement with Total.
According to the statement, the assets being bought have an expected average 2019 production of 25,000 barrels of oil equivalent per day (boepd), "placing it among the 20 largest producers on the UKCS."
The transaction includes operatorship of two assets, the Quad 15 and Flyndre areas, a fully-owned FPSO, and an operator organization of more than 110 employees and contractors, Petrogas and Hitecvision said. Petrogas NEO said it intended to build on the current Aberdeen presence of Total and "no redundancies are expected as a result of the transaction."
"Petrogas and HitecVision intend to jointly build a full-cycle North Sea operator focusing on combining value creation from the prospective North Sea basin[…]. The current acquisition is the first step in the realization of this strategy and provides a fundament for further expansion through organic and in-organic activities, including growing its operatorship position further," the two companies said, adding that Petrogas NEO would also pursue further growth.
Target set at 100,000 boepd
The companies said the plan for the acquired business is to form the foundation of a larger UK E&P company.
"This transaction is the starting point for a European focused full-lifecycle energy platform, positioning the new company as a substantial independent producer in the UKCS with material built-in upside. This acquisition enables it to establish a long-term sustainable asset base that will generate material value for both investors and employees, and lay a solid foundation towards the objective of building a leading energy company, with production of more than 100,000 boepd," Petrogas and HitecVision said.
"The assets to be acquired contain several organic growth opportunities, including infill drilling and development of discoveries close to existing infrastructure, and there is a potential for significant investments and increased activity in the years ahead," Petrogas NEO said.
The transaction is subject to customary regulatory consents and is expected to complete in Q4 2019, with an effective date of 1 January 2019.
Usama Barwani, CEO of Petrogas, commented: "Five years back, Petrogas stepped into Europe by acquiring Chevron's assets in the Netherlands, opening a new international heartland with vision of consolidation and growth in the North Sea. This acquisition in the UK is a significant step in line with a wider vision, adding material asset base, a diverse portfolio and valuable talent pool."
John Knight, Senior Partner of HitecVision, added: "In the last few years we have clearly seen the creation of a 'New European Offshore' in terms of ownership , investment and innovative financial models. Private equity-backed companies and joint ventures are emerging as among the largest investors in Norway and the UK. Larger companies are focusing their assets in Europe on a few key assets or exiting the region. In HitecVision we have invested in this theme in JVs like Vår Energi. Now this acquisition is our first step towards creating something similar in the UK."
---
The article has been updated to include comments by Petrogas and HitecVision
---
See below the fields being sold to Petrogas NEO UK, and the corresponding Total ownership prior to the sale.
Dumbarton
100%
TOTAL
Balloch
100%
Lochranza
100%
Drumtochty
100%
Flyndre
65.94%
Affleck
66.67%
Cawdor
60.6%
GoldenEagle
31.56%
CNOOC
Scott
5.16%
Telford
2.36%