Total selling UK North Sea fields to Serica
UK operator Serica will buy Total's Bruce and Keith field interests in the UK North Sea.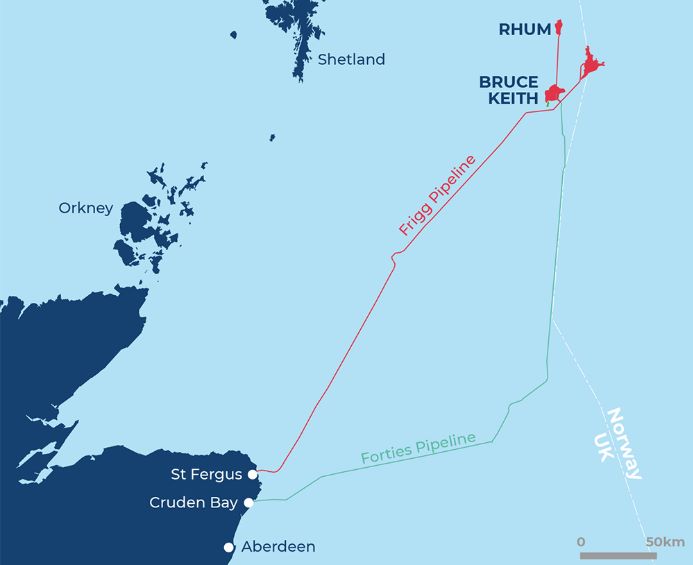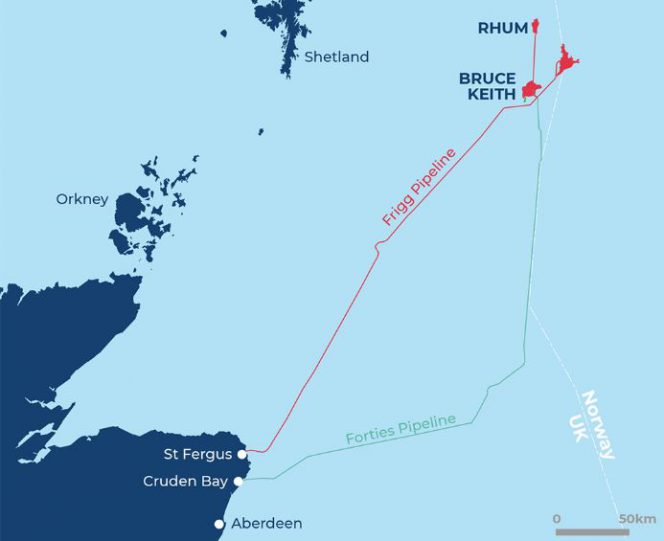 Serica will take over a 42.25% interest in the Bruce field and a 25% interest in the Keith field and associated infrastructure.
As previously reported, the UK oil company in November 2017 agreed to acquire BP's stake "Bruce assets" including three bridge-linked platforms and associated subsea infrastructure.
Under the BP agreement, Serica agreed to acquire a 36% interest in Bruce, a 34.83% interest in Keith and a 50% interest in Rhum, and become the operator. This transaction has yet to be completed.
The Bruce field was discovered in 1974 and came into production in 1993, with Keith tied back to Bruce in 2000.
Worth noting, the Total transaction is subject to completion of the BP transaction. The Total transaction is also subject to inter alia certain regulatory, government and partner consents. Serica expects both transactions to complete by the end of Q3 2018.
All eyes on Rhum
As for the financial details of the Total transaction, as announced on Friday, Serica will pay the initial cash consideration of $5 million, with further cash consideration of  $15 million to be paid in three installments.
Serica said the installments will be payable in three tranches approximately 8, 16 and 24 months following completion of the Bruce, Keith acquisition from Total.
Related: Serica evaluating impact of U.S. sanctions against Iran on UK gas field
The installment payments are subject to continued production from the Rhum field – production of which is transported via the BK Assets.
The Rhum field has attracted attention recently as Iran's NIOC owns a share in it, making a field potentially "vulnerable" to the new sanctions regime announced by the U.S. government on May 8.
"Should Rhum production be interrupted due to the application of US Sanctions limiting Rhum operations, the relevant installments will be deferred, providing Serica with protection in the event that US Sanctions are imposed more widely than currently anticipated," Serica said.
Commenting on the Rhum situation Serica CEO Mitch Flegg said: "We and BP are actively engaged in advance stage discussions with both UK and US governments to provide the basis on which the necessary Licence consents can be obtained and thereby enable continuing operations on the Rhum field after expiry of the existing OFAC Licence."
Worth noting, Total is not only getting $20 million. The French company will, similar to the BP transaction, receive a share of pre-tax net cash flow from the Bruce & Keith Assets of 60% in 2018, 50% in 2019 and 40% in each of 2020 and 2021. Serica will not be paying any amount unless this cash flow is positive and amounts are repayable to Serica UK in the event of negative cash flow, up to the amount of prior payments made to Total E&P in the same year.
The assets
Serica said the acquisition was an opportunity to further increase its reserve and production base by assuming a greater interest in assets "already well known to the company and its shareholders."
The net 2P Reserves attributable to the Bruce Keith assets which are part of the transaction with Total (BK Assets) as of 1 July 2018 are estimated to amount to approximately 11mmboe.
"These reserves will provide a significant addition to the estimated 2P Reserves of approximately 49mmboe attributable to Serica (assuming completion of the BKR Transaction) reported at the time of the BKR announcement," Serica said on Friday.
Related: Reuters: Total eyeing $1.5B UK North Sea oilfield sale
BKR stands for Bruce, Keith, Rhum – describing the previously announced transaction with BP.
The Bruce field was discovered in June 1974 and is located in the UK Northern North Sea, 350 km northeast of Aberdeen at a water depth of 122 meters and with an area of approximately 75 km². Field development was approved in 1990 and production started in 1993. Production is primarily gas with associated condensate and NGLs. The field produces from 11 reservoir units, separated by faulting and has had a cumulative production since 1993 of over 3tcf. To date, there are over 60 well penetrations in the field with 21 producing wells.
Keith to cease production in 2019
The Keith field lies 6.8 km to the southwest of the Bruce field in a water depth of 120 meters and has been developed as a subsea tie-back to the Bruce complex. The Keith field was confirmed as a separate field to Bruce after drilling in 1987 and first came on production in 2000, with the second phase of development in 2002.
No further capital programmes are planned on Keith as the field is in the final stages of its producing life, Serica said. Subject to completion of the BK Acquisition, Serica UK intends to continue production from its single well as long as economically viable, but the well is currently scheduled to cease production in 2019.