Tullow extends Maersk drillship charter despite cancellation notice
London-listed oil and gas company Tullow Oil has extended the contract with Danish offshore drilling contractor Maersk Drilling for the use of one of its drillships in Ghana, following a previously announced contract termination for the same rig.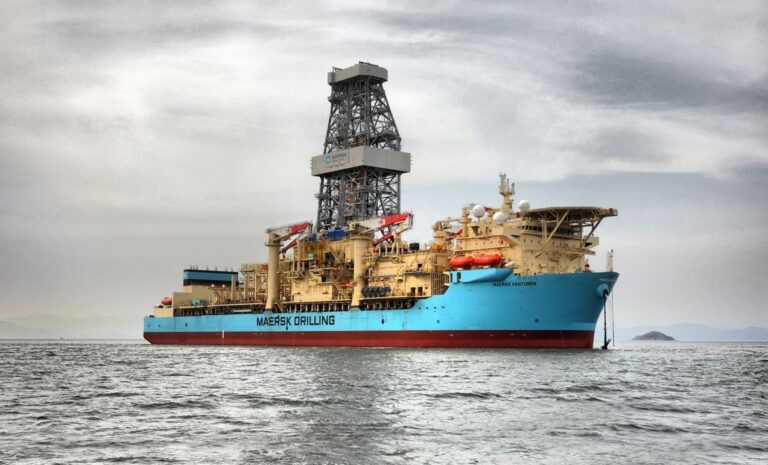 Maersk Drilling said in its fleet status report last Friday that Tullow awarded the Maersk Venturer drillship a 60-day extension for redoing the completion of one well under the original contract for the rig.
According to the report, the extension began in July 2020 and will be completed by the end of August.
As it currently stands, despite the initially planned termination in June, the rig is expected to stay with Tullow for a bit longer.
To remind, Maersk Drilling received a notification from Tullow Oil of "early termination for convenience" of the drilling contract for the Maersk Venturer in March this year. The drillship has been working for Tullow offshore Ghana since February 2018.
The contract, signed in late 2017, was for development drilling on the Jubilee and TEN fields offshore Ghana. It was initially expected to end in February 2022.
At the time of the announced termination, Maersk Drilling stated that the revenue contract backlog was reduced by $175 million covering the period from the end of the contract to February 2022. Following the addition of the two-month extension, the actual size of the reduction is not clear.
Upon receiving the termination, Maersk Drilling said it would take measures to reduce Maersk Venturer's operating costs following the end of the contract, subject to commercial prospects.
As for Tullow's Jubilee and TEN fields, gross Jubilee production averaged 84,700 bopd while gross TEN production averaged 50,900 bopd in the first half of 2020.