Tullow spuds Cormorant well offshore Namibia
Oil company Tullow Oil has started drilling the Cormorant-1 well located in PEL 37 offshore Namibia.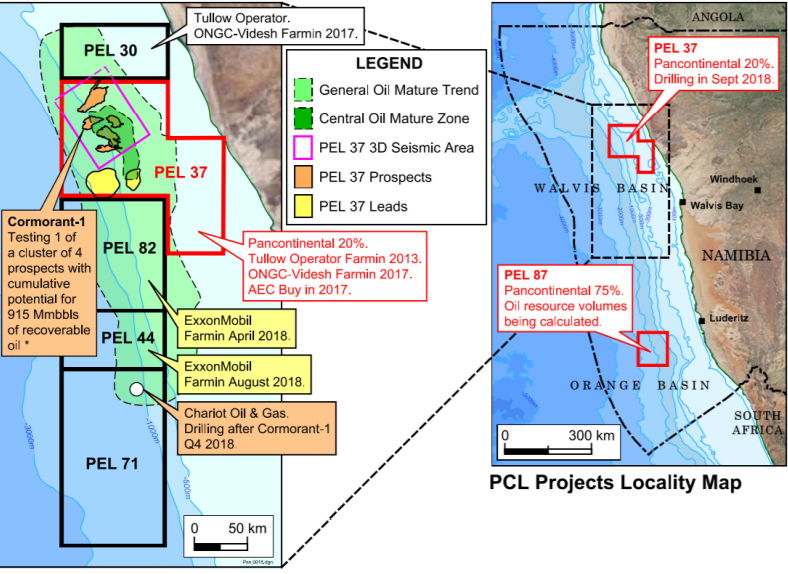 PEL 37 covers an area of 17,295 square kilometers in the Walvis Basin offshore Namibia.
The participants in Cormorant-1 well are Tullow Namibia Limited (operator) with a 35% interest; Pancontinental Namibia with a 30%; ONGC Videsh with a 30%; and Paragon Oil & Gas with the remaining 5% interest. Pancontinental Namibia is owned by Pancontinental Oil and Gas (66.67%) and Africa Energy Corp (33.33%).
Announcing the well spud, Pancontinental said on Tuesday that the Cormorant-1 is being drilled by the Ocean Rig Poseidon, a 6th Generation drillship, in 545 meters of water, to a total depth of 3,830 meters subsea. The rig reached the drilling site on Monday, September 3.
The well will test the oil potential of a mid-Cretaceous marine turbidite "fan" sandstone system. Drilling and evaluation of the well is expected to take about 34 days.
In 2013, the Wingat-1 and Murombe-1 wells, directly south of PEL 37, confirmed high quality mature oil-prone source rocks in the Walvis Basin. The Cormorant Prospect, mapped using high-quality 3D seismic data, is one of four submarine fan prospects identified so far in the block and interpreted to be charged by the same source rocks.
According to Pancontinental, the Cormorant Prospect has gross best estimate prospective recoverable resource potential of 124 million barrels of oil and, if successful, would open a fairway of similar fans, potentially creating a substantial spread of resources across PEL 37. The total estimated oil potential of the four main Prospects mapped so far in PEL 37 is 915 million barrels of oil. Additional potential exists in large "Leads" that have also been identified.
Garrett Soden, President and CEO of Africa Energy, commented, "There has recently been a resurgence of interest in the Namibian offshore region from oil majors, and the Cormorant-1 well has the potential to open a significant new play fairway."