Two players working to bring North Sea prospect to drill-ready status
Oilfield development company Orcadian Energy has reached a non-binding agreement with Carrick Resources regarding a farm-out of a prospect in the UK North Sea.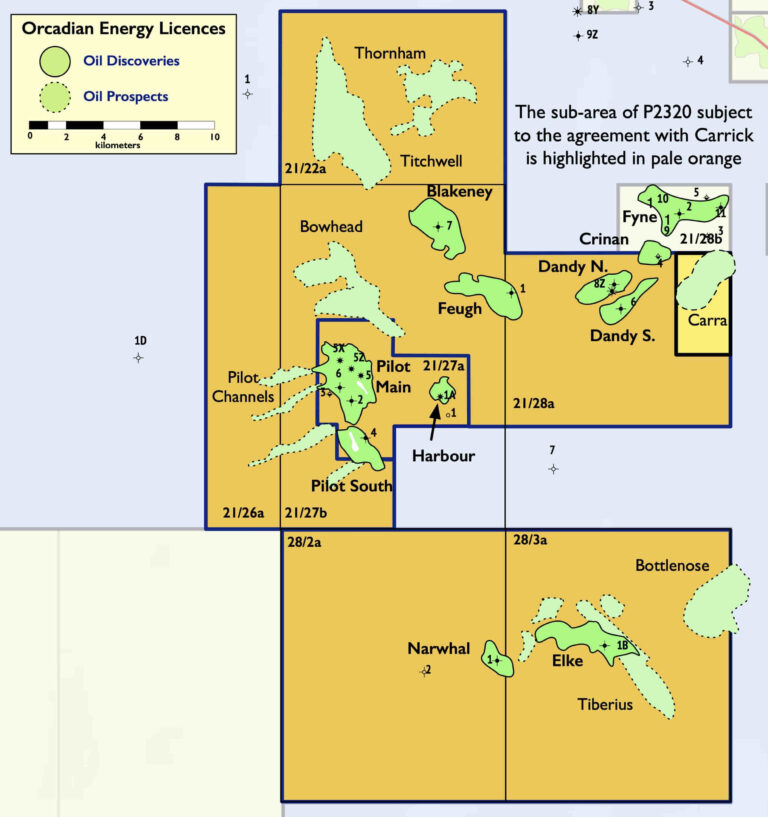 The heads of terms, related to a sub-area of licence P2320, covers the Carra prospect. The companies are currently working on the execution of a formal agreement regarding the assignment of the Carra interest to Carrick, which should be completed prior to 31 December 2021.
If a sales and purchase agreement (SPA) is executed, Carrick would purchase new seismic data, work up the Carra prospect to drill-ready status, and manage a further farm-out process on it. On the other hand, Orcadian would assign a 50 per cent interest in the sub-area of licence P2320, containing the bulk of the Carra prospect to Carrick, once OGA approval is received.
The Carra prospect, which lies to the South of Fyne and to the East of the Crinan and Dandy discoveries, is contained in Tay and Cromarty sandstones on-trend with Guillemot West. This is a stratigraphic trap associated with a clear amplitude anomaly defined by 3D seismic, according to Orcadian's statement on Monday. Carrick's initial estimates of recoverable volumes at the Carra prospect indicate it contains P50 recoverable prospective resources of 30 MMbbls of medium gravity oil.
Recently, Carrick completed the sale of its operated interest in the adjacent Block 21/28b (Licence P2451), where it had a 50 per cent interest in the Fyne field. The first oil from this field is expected in 2022.
Furthermore, Orcadian is the sole owner of licences lying in blocks 21/27, 21/28, 28/2 and 28/3, located 150 kilometres East of Aberdeen. This includes licence P2244, containing 78.8 MMbbl of 2P reserves in the Pilot – comprising Pilot Main and Pilot South – discovery, along with licences P2320 and P2482, containing a further 77.8 MMbbl of 2C contingent resources in the Elke, Narwhal, and Blakeney discoveries. It is also believed that there are 191 MMbbl of unrisked prospective resources within these licences.
Orcadian has a 50 per cent working interest in the Fynn discoveries due to licence P2516, which is administered by the Parkmead Group. This covers blocks 14/20g and 15/16g, located 180 kilometres East of Wick lying midway between the Piper and Claymore fields.
Discovered by Fina in 1989, Pilot has been well appraised and is the largest oilfield in Orcadian's portfolio. Five wells and two sidetracks were drilled so far and this includes a relatively short horizontal well, which produced over 1,800 bbls/day on the test, based on the company's data.
"Progressing Pilot and the prospects close to Pilot is our main focus and partnering with Carrick to develop a drill-ready prospect on Carra means we will leave no stone unturned in our strategy to maximise value from our assets," commented Steve Brown, Orcadian's CEO.
The firm's proposed development plan for Pilot is based upon a floating production storage and offloading (FPSO) vessel. A jack-up rig is expected to drill over thirty wells through a pair of wellhead platforms. It will also include a floating wind turbine to provide much of the energy used in the production process.
The expected emissions produced per barrel are estimated around an eighth of the 2018 North Sea average, thus, should lie in the lowest 5 per cent of global oil production.
The company reported in June this year that it was seeking to raise gross proceeds of around £5 million (circa $7.1 million) to progress its viscous oil assets located in the UK North Sea. The firm also outlined its plans to develop the Pilot oilfield in phases using a polymer flood approach, along with its other main discoveries consisting of Elke, Narwhal, and Blakeney.