U.S. player gets green light for Equatorial Guinea project with first oil slated for 2026
Houston-based Vaalco Energy has received approval for its plan of development (POD) for a discovery located offshore in Block P in Equatorial Guinea. The U.S. firm is planning to bring this project on stream in 2026.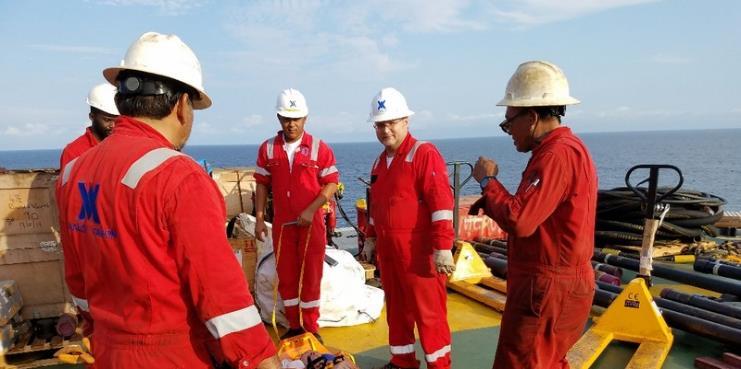 Block P consists of the Venus production and development area (PDA) and the Block P exploration area. This block covers an area of 1,253 square kilometres in the Rio Muni Basin, and the Venus discovery was made in 2005 by Devon Energy. In addition, the PDA contains a number of exploration prospects. Guinea Ecuatorial de Petroleós (GEPetrol) purchased Devon's assets in 2008 and became the operator of Block P. In November 2012, Petronas Carigali, sold its 31 per cent share in Block P to Vaalco Energy.
Located approximately 50 km to the south of Block P are the Hess-operated Ceiba and Okume fields. The sand reservoirs in the Venus field in Block P have been identified and verified as the same type as these other Rio Muni discoveries, based on the data from Atlas Petroleum International Limited. These fields have proven reserves of around 500 million barrels of oil while the reserves of the Venus field are estimated to contain between 15 and 30 million gross recoverable barrels of oil.
On 15 July 2022, Vaalco in partnership with GEPetrol, submitted a POD for the Venus development in Block P to the EG MMH. At the time, the other Block P joint venture owner, Atlas Petroleum International, opted not to participate in the POD. As the Equatorial Guinea Minister approved the POD on 16 September 2022, Vaalco will hold an 80 per cent working interest in the Venus development in Block P and operate it, while GEPetrol will hold a 20 per cent carried interest in this project. The U.S. firm explains that the Block P PSC provides for a development and production period of 25 years from the date of the POD approval.
George Maxwell, Vaalco's Chief Executive Officer, remarked: "With approval of the POD, and upon execution of final documents, we are very excited to proceed with our plans to operate, develop and begin producing from our discovery at Block P in Equatorial Guinea over the next few years. We have a strong and highly economic plan of development in place and are looking forward to working with our carried partner GEPetrol and the Equatorial Guinea government in efficiently developing this exciting discovery."
While announcing that the government of Equatorial Guinea has approved the POD, Vaalco disclosed on Monday that upon the execution of final documents, it would proceed directly to project execution, targeting the first oil in 2026 and adding 23.1 million barrels of oil (MMBO) of 2P CPR gross reserves, and 18.5 MMBO of 2P CPR working interest (WI) reserves (16.2 MMBO net 2P reserves).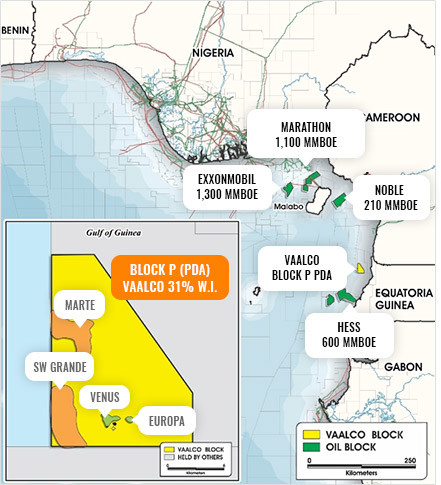 Vaalco points out that this project substantially adds to its 2P CPR WI reserves as of September 2022, which includes 9.1 MMBO of WI proved undeveloped reserves (PUDs). According to the U.S. player, this project also brings "additional future upside" with Europa development and exploration upside with Saturno and Southwest Grande prospects.
Furthermore, the approval of this PDO allows Vaalco to proceed with the development of the Venus discovery. To this end, the firm plans to spud the first development well in early 2024. The company will also acquire, convert and install production facilities over the next three years. In addition, Vaalco expects to spud an additional development and a water injection well in 2025/2026.
Moreover, the U.S.-based company estimates the preliminary project cost of drilling two development wells, an injection well and a related production facility to be approximately $310 million gross, or approximately $13.40 per barrel of 2P gross reserves.
While Vaalco anticipates first oil production from Block P in mid to late 2026, based on results from the initial discovery well and reservoir modeling, production from the field is expected to reach approximately 15,000 gross barrels of oil per day upon completion of the two development wells and injector well.
"We believe that adding another asset to our portfolio with significant 2P WI CPR is a very positive step for Vaalco and further demonstrates the meaningful value of our asset base. We believe that Block P in Equatorial Guinea has the upside potential to become a world-class asset in line with our Etame asset and see clear strategic benefits in diversifying the revenue generation and country focus of our portfolio," added Maxwell.
When it comes to Vaalco's recent activities at the Etame asset, it is worth noting that the U.S. player agreed on a short-term contract extension with BW Offshore for an FPSO operating off Gabon. This FPSO will be replaced with an FSO unit as part of the Etame Marin field reconfiguration project.
Meanwhile, after Vaalco entered into a definitive arrangement agreement with TransGlobe in July 2022 to acquire all of TransGlobe's outstanding common shares in a stock-for-stock strategic business combination transaction, valued at $307 million, ISS endorsed this merger.
The TransGlobe shareholders have been encouraged to vote for the proposed business combination of TransGlobe and Vaalco to create "a world-class African-focused E&P company."