WATCH: SBM Offshore's FPSO Prosperity getting its first topside modules
Following its transfer from the dry dock to the quayside for a topside integration phase in a shipyard in Singapore, SBM Offshore's second Fast4Ward design-based FPSO, and its third one for Guyana, is now getting its first topside modules.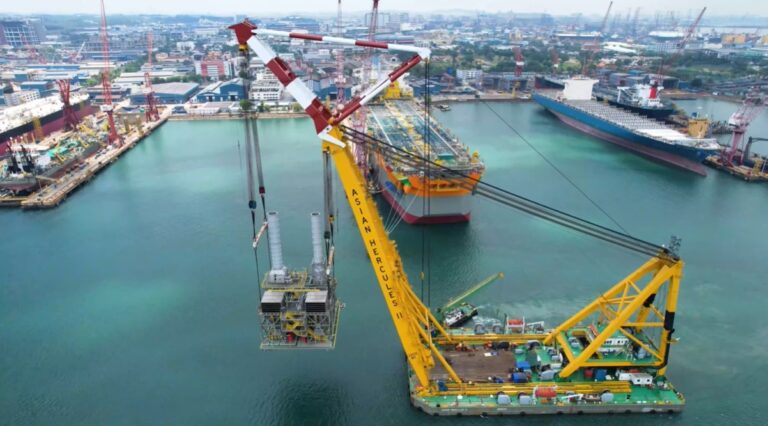 The hull for the FPSO Prosperity arrived at the Keppel yard in Singapore in mid-August and entered the drydock in October 2021. Following the arrival, the next phase of construction was expected to start, including the integration of topside modules.
As reported at the beginning of the month, the vessel left the dry dock and moved to the quayside for the topsides integration phase.
According to SBM Offshore's update on Wednesday, the first series of the topsides module lifting for the Prosperity FPSO has now started in the yard in Singapore. The vessel operator has shared a video with highlights from this project milestone.
The FPSO is destined to join two other SBM Offshore-built FPSOs, Liza Destiny and Liza Unity, in Guyanese waters.
[The article continues below the video]
The vessel will work on ExxonMobil's Payara development, located circa 200 kilometres offshore Guyana. The Payara project will target an estimated resource base of about 600 million oil-equivalent barrels. The project startup is expected in 2024.
The FPSO is designed to produce 220,000 barrels of oil per day, with an associated gas treatment capacity of 400 million cubic feet per day and a water injection capacity of 250,000 barrels per day. It will be spread moored in a water depth of about 1,900 meters and will be able to store around 2 million barrels of crude oil.
Earlier this month, ExxonMobil sanctioned Yellowtail, its fourth and largest to date oil development on its operated Stabroek Block located offshore Guyana, which will be developed with the largest FPSO vessel on the block so far.
Yellowtail will utilize the ONE GUYANA FPSO, which will also be provided by SBM Offshore. This will be the largest producing unit ever built by the Dutch operator. The first oil is expected in 2025.