ExxonMobil sanctions fourth and largest oil development on Guyana's Stabroek Block
Oil major ExxonMobil has sanctioned its fourth and largest to date oil development on its operated Stabroek Block located offshore Guyana, which will be developed with the largest FPSO vessel on the block so far.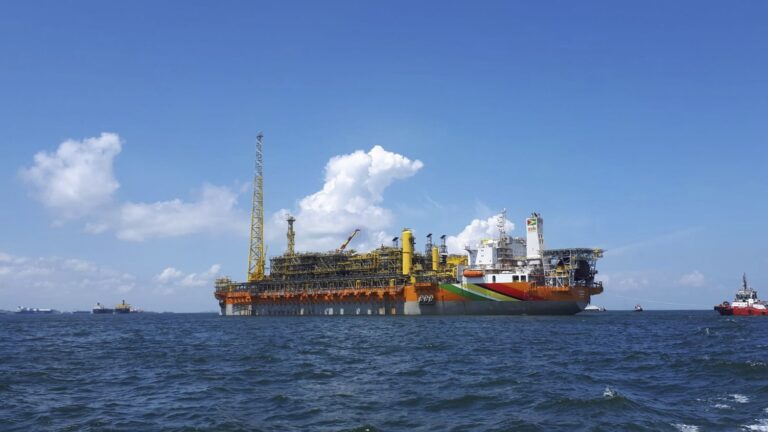 According to a Monday update from its partner Hess, ExxonMobil made a final investment decision to proceed with the development of Yellowtail offshore Guyana after receiving government and regulatory approvals. Yellowtail, the fourth oil development and the largest on the Stabroek Block, is expected to produce approximately 250,000 gross barrels of oil per day starting in 2025.
Yellowtail will utilize the ONE GUYANA floating production, storage and offloading vessel (FPSO), which will develop an estimated resource base of approximately 925 million barrels of oil. Six drill centres are planned with up to 26 production wells and 25 injection wells.
As a reminder, ExxonMobil awarded contracts to SBM Offshore to perform Front End Engineering and Design (FEED) for an FPSO vessel for the Yellowtail development project. This will be the largest producing unit ever built by SBM Offshore. The Dutch operator will construct, install, and then lease the FPSO and operate it for a period of up to two years. The first oil is expected in 2025.
The FPSO will be designed to produce 250,000 barrels of oil per day, will have an associated gas treatment capacity of 450 million cubic feet per day and a water injection capacity of 300,000 barrels per day.
Hess' net share of development costs, excluding pre-sanction costs and FPSO purchase cost, is forecast to be approximately $2.3 billion, of which approximately $210 million is expected in 2022, $430 million in 2023, $585 million in 2024, $390 million in 2025 and $295 million in 2026.
"We are excited to sanction our fourth oil development and the largest FPSO to date on the Stabroek Block," Hess CEO John Hess said.
"The world will need these low-cost oil resources to meet future energy demand and help ensure an affordable, just and secure energy transition."
The Liza Phase 1 development, utilizing the Liza Destiny FPSO, began production in December 2019; its production capacity is expected to increase to more than 140,000 gross barrels of oil per day following production optimization work currently underway.
The Liza Phase 2 development, utilizing the Liza Unity FPSO, began production in February 2022 and is expected to reach its production capacity of 220,000 gross barrels of oil per day later this year as operations are safely brought online.
The third development on the block at Payara is on track for production startup in 2024, utilizing the Prosperity FPSO with a production capacity of approximately 220,000 gross barrels of oil per day. As reported last week, the Prosperity FPSO has recently moved onto the topsides integration phase in a shipyard in Singapore.
At least six FPSOs with a production capacity of more than 1 million gross barrels of oil per day are expected to be online on the Stabroek Block in 2027, with the potential for up to 10 FPSOs to develop gross discovered recoverable resources of more than 10 billion barrels of oil equivalent.
The Stabroek Block is 6.6 million acres. ExxonMobil affiliate Esso Exploration and Production Guyana is the operator and holds a 45 per cent interest in the Stabroek Block. Hess holds 30 per cent interest and CNOOC Petroleum Guyana holds 25 per cent interest.
TechnipFMC has also already secured a contract to supply the subsea production system for the Yellowtail development while Italy's Saipem has been put in charge of Engineering, Procurement, Construction, and Installation (EPCI) of the Subsea Umbilicals, Risers & Flowlines (SURF).
Liam Mallon, president of ExxonMobil Upstream Company, said: "Yellowtail's development further demonstrates the successful partnership between ExxonMobil and Guyana, and helps provide the world with another reliable source of energy to meet future demand and ensure a secure energy transition."