Watch Suez Canal Conduct One of Its Toughest Transits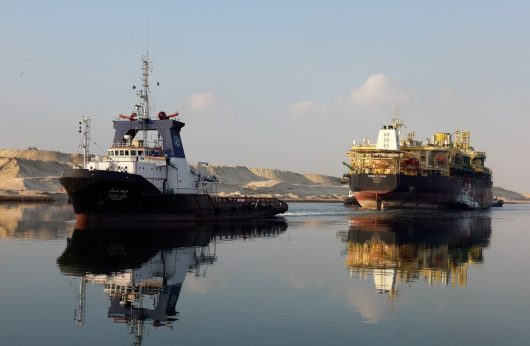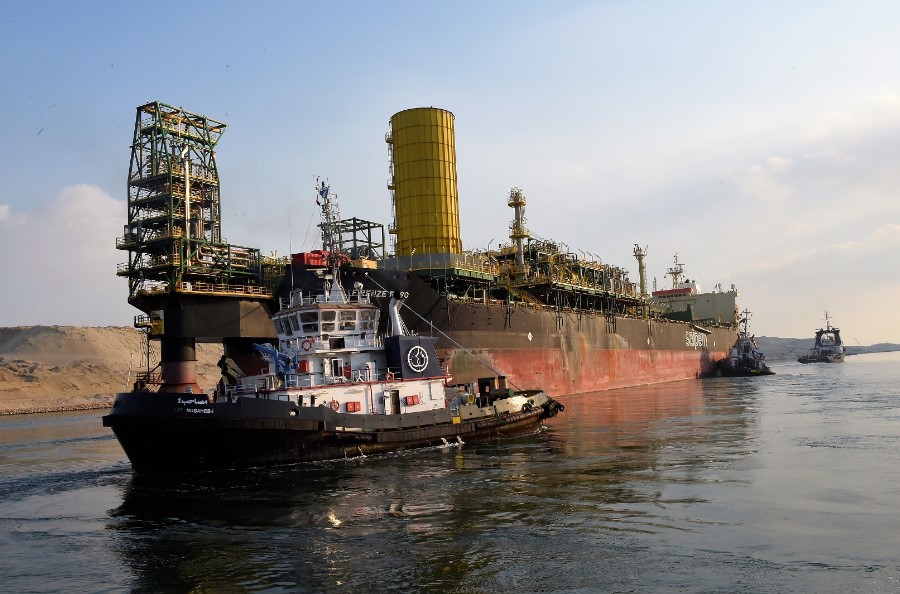 On Tuesday, December 25, workers of the Suez Canal Authority (SCA) carried out one of the toughest transits this year as they navigated a giant floating production storage and offloading (FPSO) unit through the waterway.
The challenging task saw Firenze FPSO towed by five large SCA tugs, including MT/ Ezzat Adel, the biggest tug in the Middle East, with the towlines attached to the rear of the vessel. The endavour saw 6 highly trained and well experienced pilots assigned to the transit to guarantee the safe passage of the vessel.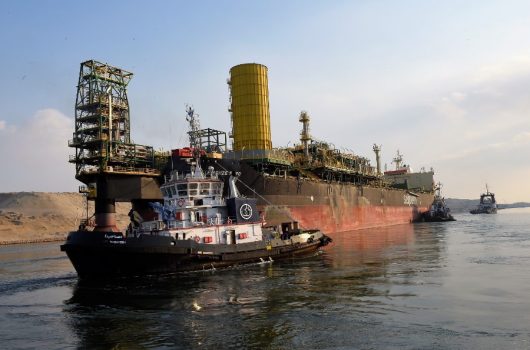 The FPSO was part of the southbound convoy as it was heading from Italy to Dubai. The Italian-flagged floating facility squeezed through the New Suez Canal, which is equipped with special navigational aids. What is more, the route is clear of severe curves, allowing for an easier passage. The vessel's passage cost USD 2.5 million in toll transits, according to SCA.
Built in 1989 by 3 May Shipyard, Firenze FPSO measures an overall length of 268 meters, a beam of 42.5 meters, a draught of 8.5 m, its total deadweight is 95,500 tons and it has a gross tonnage of 59,491 tons. The vessel was converted from 110,400 dwt Aframax tanker to an FPSO in 2011. The FPSO is owned by Italian oil and gas company ENI.
Commenting on the transit, Suez Canal Authority Chairman Mohab Mameesh reaffirmed the canal's readiness for accommodating all types of current and next generation of vessels, especially on the back of the New Suez Canal project. Namely, the project included the widening and deepening of 35 kilometers of the existing canal up to a depth of 24 meters, as well as digging and creating 37 kilometers of the so-called "second lane," running parallel to the existing waterway.

According to SCA's data, on the same day the canal registered the passage of 55 vessels from both directions with a total gross tonnage of 4.1 million tons, out of which 30 were southbound vessels and 25 northbound vessels.
The largest vessel of the southbound convoy was the 20,600 TEU behemoth CMA CGM Louis Berliot, which was heading from Spain to Dubai, while the largest vessel in the northbound convoy was also a giant containership, the 14,000 TEU MSC Livorno, which was heading from Singapore to Egypt.
Image Courtesy: Suez Canal Authority; Video Courtesy: Abdullah Commandos