Wave Swell Energy's 200kW wave unit nears completion
Australian-based company Wave Swell Energy (WSE) has made significant progress on the construction of its wave energy device that will be deployed off Tasmania early in 2021.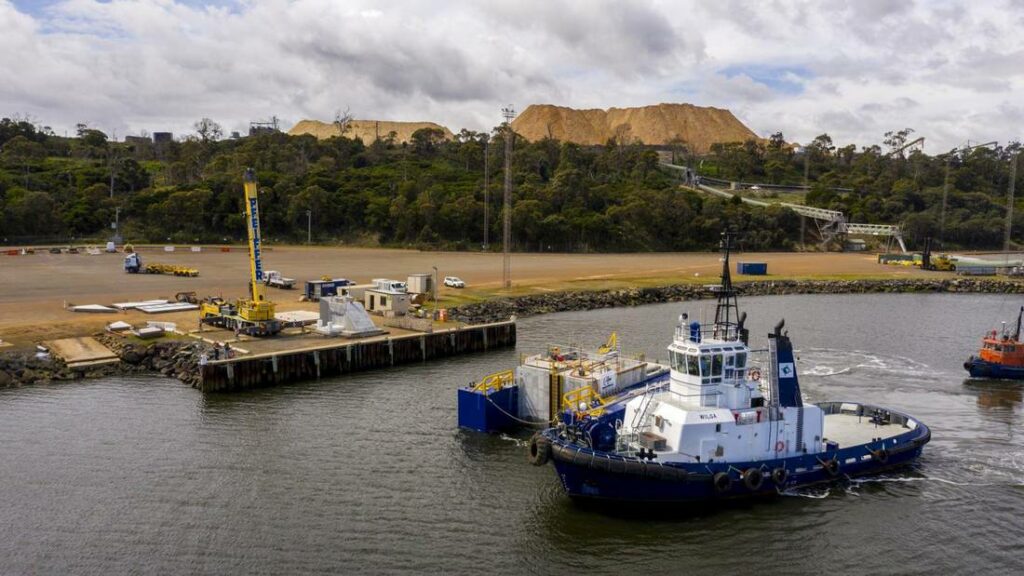 A 200kW demonstration unit, still under construction, will be installed just south of the Port of Grassy on King Island.
The substructure of the device was built at the Southern Marine Shiplift, while WSE has been building the super structure of the device on TasPorts land at the Port of Bell Bay.
In mid-December 2020, the superstructure and the substructure have been joined together, WSE said, adding that all major components are now in place as work continues on the internal parts of the device.
TasPorts' Executive General Manager Corporate Affairs, Kate Dean, said TasPorts was pleased it could play its role in bringing the two structures together.
Dean said: "TasPorts' tug Wilga and workboat Carrington recently undertook an impressive nine-and-a-half-hour voyage to tow the 740 tonne substructure of the device from Southern Marine Shiplift, up the Tamar River to the Port of Bell Bay.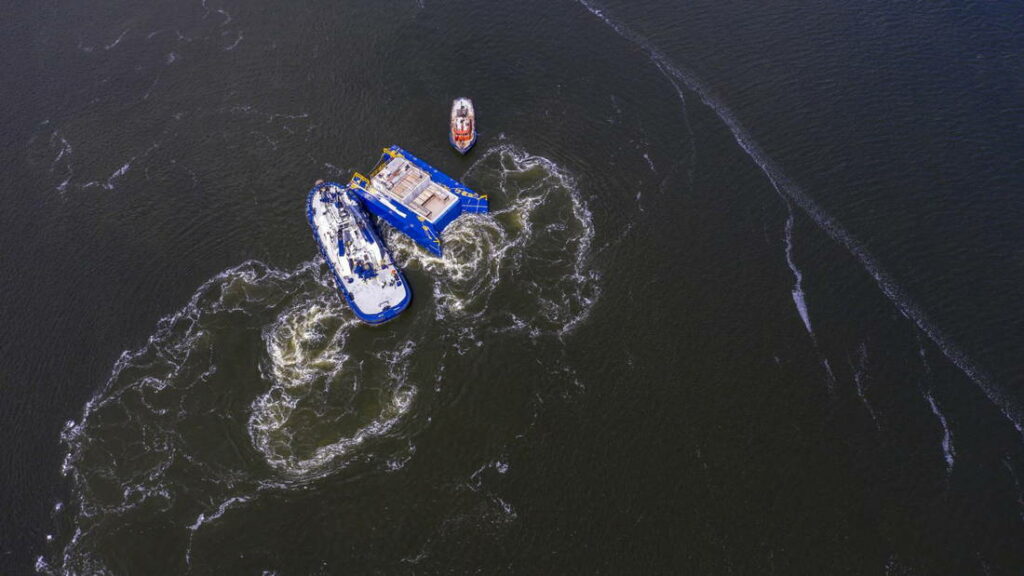 "Once WSE completes the construction of the unit dockside, TasPorts will then play a critical role transporting the almost 1000 tonnes of equipment on its 40 hour journey across the Bass Strait, from Bell Bay to King Island".
Tom Denniss, WSE Co-Founder and Executive Chair, said these milestones are important steps towards their vision.
Denniss said: "We have really valued the support from all of the Tasmanian suppliers, such as TasPorts, that we have worked with to see the project get to this stage.
"Through this collaboration we have been able to see incredible levels of expertise and excellence delivered by these local businesses".
Denniss added that once at King Island, WSE will work with Hydro Tasmania to deliver energy generated by waves into the island's existing grid, which is currently powered by wind, solar, and diesel generators,
"We believe this will see King Island become the first location in the world with a power station that operates on three different types of renewable energy.
"Longer term, we expect to provide large scale grid connected electricity. Waves are a highly predictable, reliable and a virtually infinite resource. We aim to make wave energy a complementary base load power source that provides a meaningful contribution to the global energy mix", concluded Denniss.
WSE's technology is based on the oscillating water column (OWC) concept.
The OWC is an artificial blowhole consisting of a chamber that is open underneath the waterline.
As waves pass the OWC, the water rises and falls inside, forcing the air to pass by a turbine at the top of the chamber, which in turns generates electricity.