Wintershall shuts in Maria field to improve disappointing output
German oil and gas company Wintershall has temporarily shut-in production from its Maria field located in the Norwegian Sea while the company is looking at ways to improve the production from the field which has failed to meet the its expectations.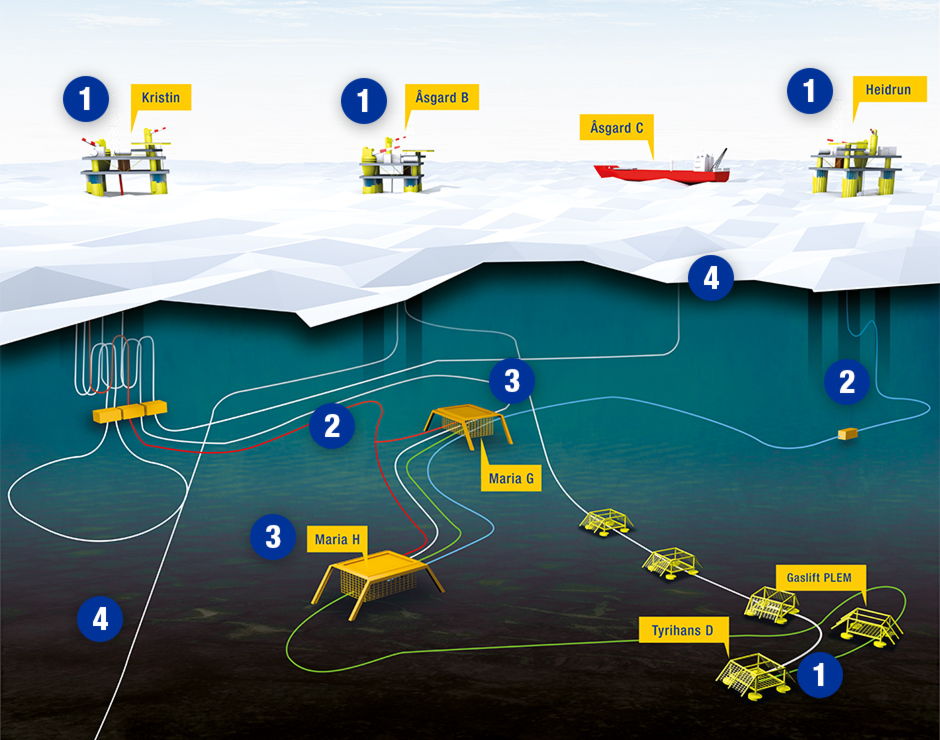 Wintershall started production from the Maria oil field in December 2017, one year ahead of schedule and with 20% reduction in costs. Maria was Wintershall's first own-operated field in Norway.
Wintershall chose a subsea concept to develop the field. Two underwater installations (subsea templates) were installed on the seabed in 300-meter water depth above the Maria reservoir and connected via a pipeline network to the existing Kristin, Heidrun, and Åsgard B platforms.
A little over a year after the production started, Wintershall said that the field's production performance did not yet meet its expectations. While the multiple host facilities have performed as planned Wintershall as the operator is still monitoring and testing pressure conditions across the reservoir to establish the best way to leverage the full potential offered by the Maria field. Extensive analysis to date shows that there is low connectivity between the geological layers in the reservoir, meaning the water injection could not provide the planned pressure support.
Wintershall said: "We are working hard to implement measures to improve production. We have carried out tests which have established that there is low connectivity between the layers in the reservoir. Based on these results we have started providing pressure support by injecting water into the producing layer. We intend to drill two new wells by the end of 2019 designed to substantially improve the production in the field. Over the lifetime of the field we intend to produce all the recoverable volumes."
The field has therefore been shut-in for a short period in order to acquire sufficient data for improving understanding of subsurface status and reservoir performance, which will be important for determining and detailing the planned mitigation measures like the drilling of the two wells later this year.
In related news, Wintershall, which is soon to be merged with compatriot DEA, said on Thursday it would reduce its staff by a total of 1,000 jobs in Germany and Norway following the merger completion.
The new entity, Wintershall DEA, also plans to increase production by 40% by early 2020s.
Offshore Energy Today Staff