With two new offshore licenses, TotalEnergies to explore carbon storage potential in North Sea
French-headquartered energy giant TotalEnergies has been awarded two offshore licenses to explore CO2 storage potential in the Danish North Sea.
The Danish Ministry of Climate, Energy and Supply disclosed on Monday, 6 February 2023, that it had handed out three permits – two to TotalEnergies EP Danmark and one to a consortium of Ineos E&P and Wintershall Dea – for full-scale CO2 storage in the North Sea. These permits cover areas in old spent oil and gas fields as well as previously unexplored saline porous sand layers located at a depth of one or two kilometres below the seabed.
In a separate statement, TotalEnegies confirmed the award of two CO2 storage licenses, located 250 kilometres off the west coast of Denmark, covering an area of 2,118 km2. The acreage includes the TotalEnergies-operated Harald gas fields for which the French giant is already assessing CO2 storage opportunities within the framework of the Bifrost project, as well as a saline aquifer that could increase CO2 storage volumes and bring a competitive solution to the market.
Arnaud Le Foll, Senior Vice President New Business – Carbon Neutrality at TotalEnergies, remarked: "TotalEnergies is pleased to have been awarded these two CO2 storage licenses in Denmark. With its large geological storage potential and its proximity to major industrial emitters in Central Europe, Denmark can play a leading role in carbon capture and storage on the continent."
Alongside state-owned Nordsøfonden (20 per cent stake), TotalEnergies (80 per cent interest) will be the future operator of the offshore CO2 storage licenses. The French player will carry out evaluation and appraisal work to develop a project that could ultimately transport and permanently store more than 5 Mt CO2/year, by repurposing existing infrastructure in the Danish North Sea and building new facilities.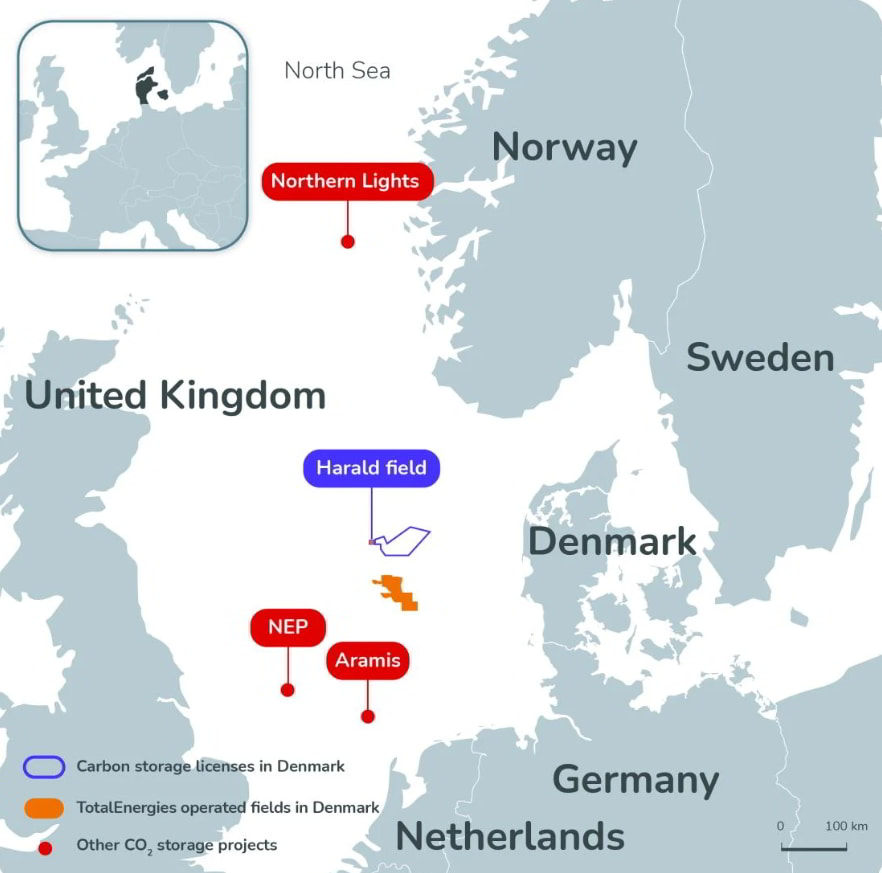 "With the Northern Lights project under construction in Norway and projects under development in the Netherlands and the UK, the North Sea area will be the main contributor to our objective of 10 Mt/y of CO2 storage by 2030 and to the decarbonisation of the European economy," concluded Le Foll.
Regarding TotalEnergies' other recent activities, it is worth noting that the oil major approved a final investment decision (FID) last month for the Lapa South-West oil development project located in the Santos Basin, 300 km off the coast of Brazil.
The project is expected to come online in 2025, increasing production from the Lapa field by 25,000 barrels of oil per day, bringing the overall production to 60,000 barrels of oil per day.