World's largest containership MSC Michel Cappellini named in Bremerhaven
The world's largest containership, MSC Michel Cappellini, was named in Bremerhaven today, MSC Mediterranean Shipping Company said.
Measuring an impressive 400 meters in length and boasting a capacity to carry up to 24,346 containers, the MSC Michel Cappellini is the crown jewel of the brand-new Celestino Maresca class, surpassing the previous Gülsün class to become the next innovative category of ultra-large container ships.
The Liberia-flagged containership has been classed by DNV and has been given Route Specific Container Stowage (RSCS) class notation from DNV.
The sea giant is IMO TIER III compliant, which means that its engines meet or exceed the stringent nitrogen oxide emission limits set by the International Maritime Organization, employing technologies such as Selective Catalytic Reduction (SCR) to significantly reduce emissions and promote cleaner maritime operations in designated Emission Control Areas (ECAs). In addition, the collosal vessel has been fitted with air lubrication technology, RSD Shore power and a hybrid scrubber provided by Wärtsilä.
The vessel's vast size and advanced technology highlight the ongoing trends in container shipping, which continually seek to optimize operational efficiency while minimizing environmental impact.
The ship was built by China's Jiangsu Yangzi Xinfu for Bank of Communications Financial Leasing and MSC is the commercial operator of the ship.
"This is a great honor and at the same time a great commitment from MSC to our ports," said Robert Howe, Managing Director of bremenports Ltd., the public owned ports management company of the State of Bremen.
The city of Bremen and Mediterranean Shipping Company (MSC) have inked a landmark agreement on the ocassion to facilitate onshore power supply for MSC vessels calling at the ports of Bremen. The agreement, aimed at promoting sustainability in the maritime industry, marks a significant step forward in reducing greenhouse gas emissions and improving air quality at the port.
Onshore power supply, also known as "cold ironing" or shore-to-ship power, enables vessels to shut down their diesel engines while docked at the port and instead rely on electricity from the onshore power grid to meet their energy needs. This reduces air pollution, noise, and carbon emissions associated with traditional vessel operations, making it a critical component in the shipping industry's efforts to achieve decarbonization goals.
"The contracting parties agree to cooperate with regard to the use of shore power for MSC container ships calling at the port of Bremerhaven. This is a first step towards zero-emission shipping and decarbonizing the operations of MSC companies," the port said in a press release.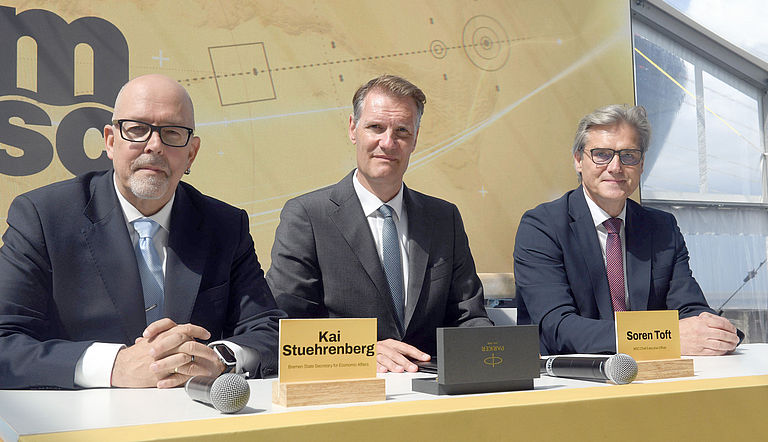 The agreement was signed by Soren Toft, CEO of MSC, Kai Stührenberg, State Councilor at the Senator for Economics, Ports and Transformation, and bremenports Managing Director Robert Howe.
Shore power systems are expected to be ready for operation at the Stromkaje in Bremerhaven in January 2025. MSC plans to use these facilities when its vessels fitted with alternate marine power (AMP) capabilities call at the Bremerhaven container terminal. The duo also agreed that it should also be ensured that the electricity provided comes from renewable energy sources.
The parties may seek to extend the agreement to other ship types and terminals (eg, cruise ships, other berths, etc.) over time.