W&T Offshore's Gulf of Mexico well 'exceeds pre-drill estimates'
Houston-based W&T Offshore has struck hydrocarbons at an exploration well drilled from the South Timbalier 311 platform in the Gulf of Mexico that is part of the Ewing Bank 910 field.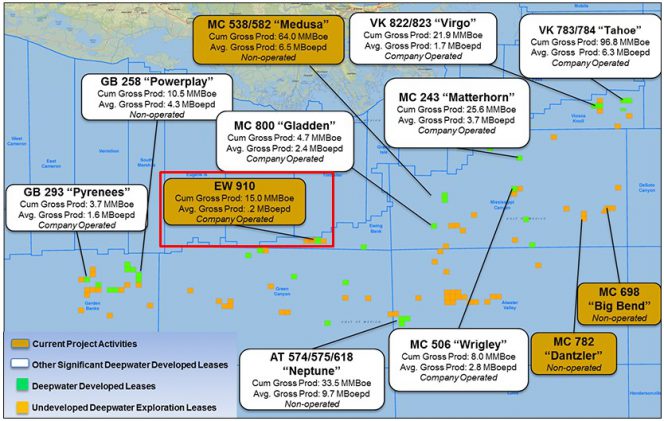 ---
The company logged approximately 163 feet of net hydrocarbon, which exceeds pre-drill estimates. W&T expects to have the well on production via existing infrastructure before year-end 2018.
W&T said on Tuesday that the ST 320 A-2 exploratory well reached total depth and was being prepared for completion.
Following the completion of the ST 320 A-2 well, the rig will spud the ST 320 A-3 well, another low-risk exploration opportunity in the Ewing Bank 910 field. Stratigraphic information from a high-quality thick Miocene sand that was penetrated up-hole in the ST 320 A-2 well has lowered the perceived risk on the ST 320 A-3 oil prospect.
Both of these wells in the Ewing Bank 910 field are part of a drilling joint venture program established by W&T and private investors in 2018.
Before inclusion of these wells in the JV, W&T's working interest in these wells were 36%. As a result of the JV drilling program and other promoted working interests at the ST 320 A-2 well, W&T is expected to contribute 4.8% of the total capital expenditures and will receive 10.8% of the net revenues less expenses until certain thresholds are met, at which time W&T's effective interest in this well will increase to 13.8%.
The company also entered into a definitive purchase and sale agreement to divest its ownership in overriding royalty interests in the Permian Basin for $56.8 million.
The transaction, subject to customary closing conditions and adjustments, is expected to close on or before October 1, 2018.
Tracy Krohn, W&T Offshore's chairman and CEO, said: "The divestiture of our non-core, non-operated onshore asset will enhance our already strong cash position as we optimize our balance sheet for future growth.
"We are continuing to have excellent drilling success in the Gulf of Mexico and delivering solid results for our JV drilling program. The ST 320 A-2 well success further supports our plan to execute and bring forward our high-quality prospect inventory."
Related news
List of related news articles