3D Oil's offshore block similar to Quadrant's Dorado discovery (Australia)
Oil company 3D Oil has identified a possible erosional channel system in its WA/527-P exploration permit offshore Australia, analogous to that found in the recently struck Dorado-1 discovery.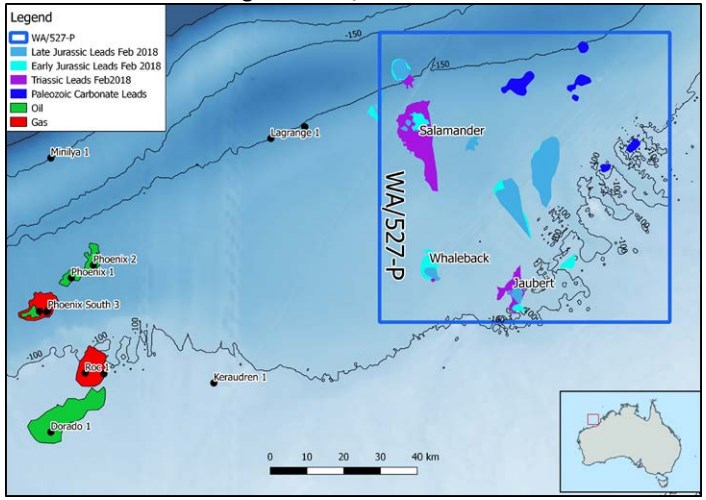 The WA/527-P, 3D Oil's 100%-owned exploration permit, is located in the Bedout sub-basin some 80 kilometers northeast of the Dorado-1 oil discovery owned by Carnarvon and Quadrant (recently acquired by Santos).
The permit covers approximately 6,500 square kilometers, and the 3D Oil has so far identified at least fifteen leads across the permit.
3D Oil said on Wednesday that it completed test reprocessing of a key seismic line, after having identified a possible erosional channel system in the western side of the permit.
According to the company, the results support the presence of an erosional channel system, analogous to that which set up the Dorado discovery.
The company added that the proposed erosional channel system ran parallel to the western boundary of WA/527-P and was interpreted to cut into Lower Triassic sands, the same as those bearing hydrocarbons at Dorado and Roc.
"Acquisition of modern 3D seismic data could help determine whether this channel system provides a trapping mechanism for oil-bearing structures like Dorado. 3D Oil may be able to then determine the best possible location for the 3D seismic acquisition after it completes the current task of reprocessing additional key 2D seismic lines within the western side of the acreage," 3D Oil stated.
Several parties interested in farm-in
The company has identified possible hydrocarbon leakage in the area in the form of possible hydrocarbon-related diagenetic zones.
Most of these interpreted leakage areas are observed in the Triassic system which hosts the Dorado, Roc and Phoenix South discoveries. It is likely that hydrocarbons could escape from the Triassic system and leak vertically.
"If correct, there is likely to be abundant hydrocarbons available to the acreage, and presumably, the hydrocarbons would contribute to any traps set-up by the recently identified erosional channel system," the company said.
3D also said that the high-graded prospective leads were the focus of the company's ongoing farm-out campaign.
"A number of major strategic parties have expressed interest in the permit following the Dorado-1 discovery which is further enhanced by the recent studies," 3D concluded.