ADNOC in $4B pipeline investment deal with BlackRock, KKR
Abu Dhabi's ADNOC has signed a multi-billion-dollar pipeline infrastructure partnership with KKR and BlackRock, two of the world's leading institutional investment funds.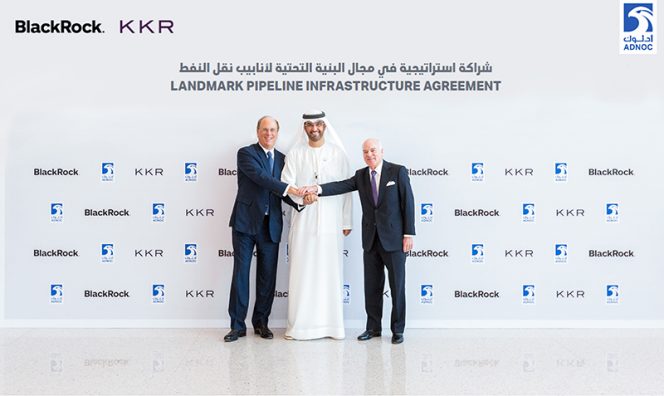 As part of the transaction, a newly formed entity called ADNOC Oil Pipelines will lease ADNOC's interest in 18 pipelines, transporting stabilized crude oil and condensate across ADNOC's offshore and onshore upstream concessions, for a 23-year period.
The entity will, in turn, receive a tariff payable by ADNOC, for its share of volume of crude and condensate that flows through the pipelines, backed by minimum volume commitments.
Funds managed by BlackRock and KKR will form a consortium to collectively hold a 40% interest in the entity, while ADNOC will hold the remaining 60% majority stake. Sovereignty over the pipelines and management of pipeline operations remain with ADNOC.
The transaction will result in upfront proceeds of approximately $4 billion to ADNOC and is expected to close in Q3 2019, subject to customary closing conditions and all regulatory approvals.
"BlackRock and KKR's long-term investment underlines the attractiveness of Abu Dhabi and the UAE as a rapidly emerging investment destination for international capital. This transaction marks the first time that leading, global institutional investors have deployed capital into key midstream infrastructure assets of a national oil company in the Middle East," ADNOC said.
As part of the deal ADNOC Oil Pipelines is leasing 18 pipelines of a total length of over 750km, and a total aggregate capacity of approximately 13,000 Mbblpd (gross).
According to ADNOC, these assets represent key midstream infrastructure for Abu Dhabi's energy ecosystem, allowing for the vast majority of Abu Dhabi's crude oil production to be transported from ADNOC's onshore and offshore upstream assets, to Abu Dhabi's key takeaway outlets and terminals for conversion to other products, or on to global energy markets.
Most importantly, this transaction marks a milestone for ADNOC and Abu Dhabi as it paves the way for further significant foreign direct investment into the UAE," Sultan Al Jaber, UAE Minister of State and ADNOC Group CEO
The pipelines have underlying long-term minimum volume commitments and are supported by crude oil production from ADNOC Onshore and ADNOC Offshore –  onshore and offshore operating companies in ADNOC with global IOCs as JV partners, each with an average remaining concession life of over 35 years.
Commenting on the transaction, Sultan Al Jaber, UAE Minister of State and ADNOC Group CEO, said: "The level and sophistication of the investors that we are attracting as financial partners to invest, alongside ADNOC, in these select pipeline assets is a clear reflection of the UAE's stable, attractive and reliable investment environment. It also demonstrates the global investment community's validation of ADNOC's progressive and smart approach to unlocking value from its portfolio of assets while retaining control over their ownership and operation."
"This transaction is another example of the innovative steps we are taking to constantly optimize our assets and capital and deliver sustained value to both ADNOC and the UAE. We are creating a range of attractive opportunities for global and regional institutional investors to partner and invest alongside ADNOC to enhance value from our sizeable infrastructure base, drawing on our expertise in structuring and packaging value-enhancing partnership programs that preserve Abu Dhabi's ownership and control of its assets. Most importantly, this transaction marks a milestone for ADNOC and Abu Dhabi as it paves the way for further significant foreign direct investment into the UAE."
 Henry Kravis, Co-Founder, Co-Chairman and Co-CEO of KKR, said:  "We have created an innovative core midstream infrastructure platform alongside ADNOC and BlackRock that can be a catalyst for further foreign investment and broader economic transformation in the United Arab Emirates. Having long had a presence in the region, we appreciate the high quality of ADNOC as a partner and Abu Dhabi's investor-friendly environment to enable our first direct investment in the region. With this transaction as a precedent, we believe there is substantial potential to do even more."
"For many years BlackRock has had strong relationships in the United Arab Emirates and across the region, so we are especially pleased to be able to play a role in this landmark transaction," said Laurence D. Fink, Chairman and CEO of BlackRock. "Public-private partnerships are essential for investment to drive continued economic growth in the region, and we believe that today's agreement among ADNOC, BlackRock and KKR will be followed by many more such partnerships to invest in the future growth of the region."
Related news
List of related news articles