Aibel cuts first steel for Johan Sverdrup's processing platform
Norwegian oil services company Aibel has cut first steel for the P2 processing platform for the Equinor-operated Johan Sverdrup development located offshore Norway.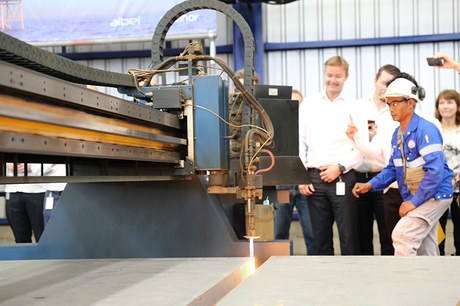 The P2 process platform is the second platform Aibel will deliver to the Johan Sverdrup field. It is being built in Thailand.
Aibel marked the beginning of construction on its largest project ever on Friday, March 8 in a ceremony blessed by Thai monks. The ceremony was held at Deeline, Aibel's subcontractor, just outside Pattaya.
In the next two years, it will be in excess of 2,800 people engaged in the project in Thailand.
According to Aibel, the project has a value of NOK 10 billion and its construction will follow the same implementation model that Aibel has used for the Johan Sverdrup drilling platform.
This means that the platform will consist of three modules, of which the construction of the third module – the main structure framework (MSF) – is the one that is now starting at Aibel's yard in Thailand. At completion, it will have a weight of around 14,500 tonnes. The module will be transported by sea to Norway in February 2021.
The other two modules – the upper process module (UPM) and the converter module (HVDC) – will be built and completed at the company's yard in Haugesund, starting in the spring and summer of 2019.
According to plan, the finished process platform will be transported from Haugesund to the field in January 2022.
It is also worth mentioning that Aibel last January won an engineering, procurement, and construction (EPC) contract for the final bridge on the Johan Sverdrup field platform complex. The 100-meter bridge will connect the P2 process platform with the riser platform at the field. The bridge will weighs around 1,350 metric tons.
The Equinor-operated Johan Sverdrup development is located on the Utsira Height in the North Sea, 160 kilometers west of Stavanger. Phase 1 of the Johan Sverdrup development is well underway with planned startup in late 2019. Production start for phase 2 is planned in 2022.
Offshore Energy Today Staff