Air Products to build net-zero hydrogen complex in Canada
U.S. LNG equipment maker Air Products has revealed a multi-billion dollar plan to build a new net-zero hydrogen energy complex in Edmonton, Alberta, Canada.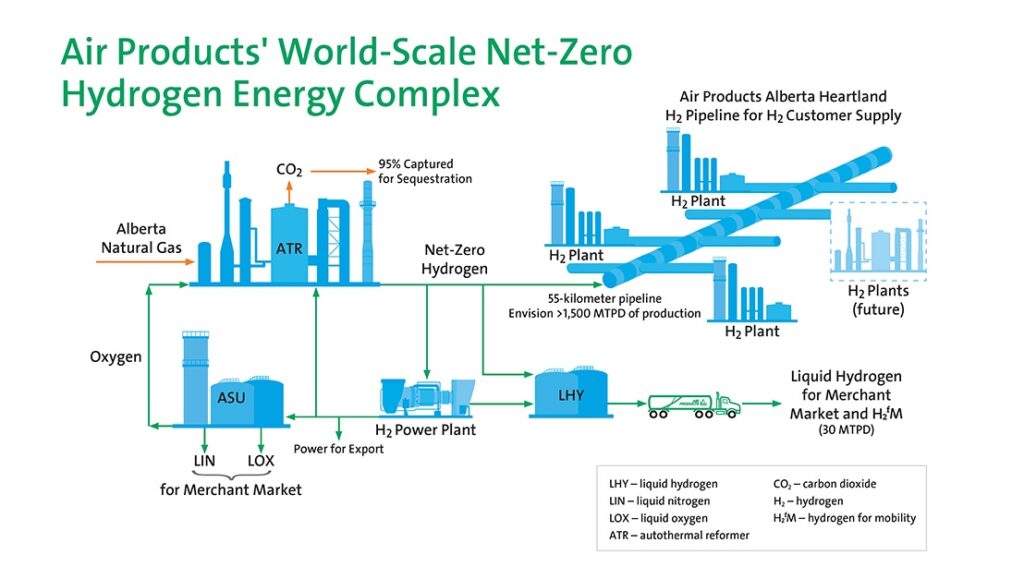 Air Products' subsidiary Air Products Canada, in conjunction with the government of Canada and the province of Alberta, announced the plan to build a hydrogen complex.
In 2018, Air Products began work on the core of this complex. The complex starts with a $1.06 billion (C$1.3 billion) net-zero hydrogen production and liquefaction facility expected onstream in 2024.
The facility is to capture over 95 per cent of the carbon dioxide (CO2) from the feedstock natural gas and store it safely back underground. Hydrogen-fueled electricity will offset the remaining five percent of emissions.
Air Products said it will deploy advanced hydrogen technology and innovative design to deliver net-zero emissions.
This project is expected to reach over 1,500 tonnes of hydrogen production per day and achieve greater than three million tonnes per year of CO2 capture.
Initially, Air Products will build, own, and operate a new net-zero hydrogen complex consisting of a:
Auto-thermal reformer (ATR) hydrogen production facility, featuring Haldor Topsoe technology, to be built on a large project site in Edmonton;
Carbon capture operations capable of achieving 95 per cent removal of CO2 from the complex;
Power generation facility fueled 100 per cent by hydrogen, including NovaLT16 turbines provided by Baker Hughes, to produce clean electricity for the entire facility and export to the grid, offsetting the five per cent remaining CO2 to achieve the net-zero hydrogen facility design; 
30 tonnes-per-day hydrogen liquefaction facility designed by Air Products, the first of such liquid hydrogen operations around the world to provide clean hydrogen to industrial and mobility hydrogen markets across Western Canada;
Air separation facility, designed by Air Products to support the ATR operation and to produce clean liquid oxygen and nitrogen for the merchant industrial gas market; and
Connection to Air Products' existing Alberta Heartland Hydrogen Pipeline network for enhanced reliability and phased decarbonization of the entire network.
Seifi Ghasemi, Air Products' chairman, president and CEO, said: "By being a first mover and investing in this innovative landmark project, we are paving the way for hydrogen from Edmonton to meet industrial and transportation needs throughout western Canada. Our highly integrated project will be a model for net-zero atmospheric gas, hydrogen and power production consistent with our announced growth platforms."
Air Products Canada currently operates three hydrogen production facilities in Alberta, and a 55-kilometre hydrogen pipeline in the Alberta Industrial Heartland. It also operates a hydrogen production facility, a 30-kilometre pipeline network and a liquefaction facility in Sarnia, Ontario.