Aker Energy eyes Dhirubhai-1 FPSO for Ghana project
Ocean Yield has entered into an option agreement with Aker Energy for the bareboat charter of the Dhirubhai-1 FPSO vessel, which was recently released by Reliance in India.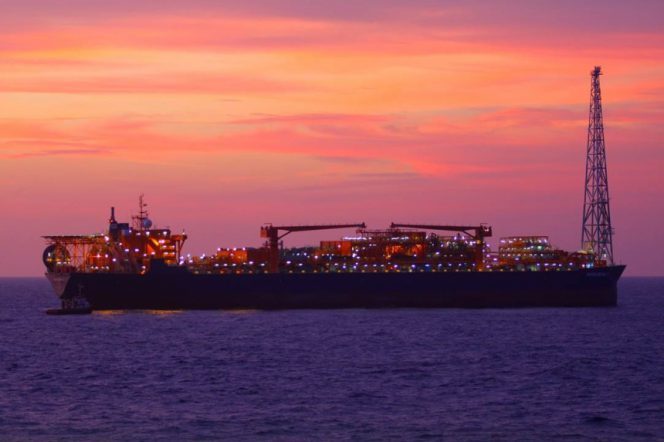 ---
The agreement will see Aker Energy pay $3 million for an option to bareboat charter the FPSO for a period of 15 years. If the option is exercised, the FPSO will be used for an early-production project offshore Ghana.
The option can be exercised before May 1, 2019. Also, Aker Energy can extend the initial option period by another 30 days but will have to pay for the extension.
In case Aker Energy exercises the option, Ocean Yield will finance the modification of the FPSO against a competitive charter rate that reflects the book value of the unit and the cost of modification.
Ocean Yield said on Tuesday would not be exposed to risks related to the modification or be involved in the operation of the vessel. The FPSO Dhirubhai-1 is owned by Ocean Yield's subsidiary Aker Floating Production (AFP).
Furthermore, Ocean Yield said, the majority of the personnel in Aker Floating Production AS will be hired by Aker Energy until May 1, 2019. Aker Energy has an option to offer employment to the personnel upon expiry of the option period.
Ocean Yield's CEO Lars Solbakken said: "We are pleased to announce that we have entered into an option agreement with Aker Energy for a 15-year bareboat charter for the FPSO Dhirubhai-1 for their planned early oil production offshore Ghana.
"If the option is exercised, we expect some revenues from the FPSO already this year and increased revenue contribution from first oil, which is targeted in 2021."
It is worth noting that Aker Energy is, through its subsidiary in Ghana, the operator of the Deepwater Tano Cape Three Points block offshore Ghana with a 50% participating interest. The company last month completed a successful drilling operation of the Pecan-4A appraisal well offshore Ghana.
As for the FPSO intended for deployment in Ghana, the FPSO Dhirubhai-1 was previously employed on the MA field located off the East Coast of India in Block KG-DWN-98/3 (KGD6) operated by Reliance Industries.
Due to a natural decline of production on the field, Reliance Industries instructed Aker Floating Production to shut down production on September 17, 2018. Reliance had the option to buy the FPSO following the expiry of a ten-year contract but decided not to exercise it.
The FPSO Dhirubhai-1, which, according to MarineTraffic, is still located in India, was converted from a Suezmax tanker to an FPSO in 2008 with an oil production capacity of 60.000 barrels.
Offshore Energy Today Staff