Amogy's ammonia-to-power system in centre of newly formed partnership
Ammonia power solutions company Amogy Inc., shipping company Skansi Offshore and system developer and integrator SEAM have signed a Memorandum of Understanding (MoU) to investigate potential technology collaboration in the field of ammonia application, with the common goal of decarbonising the offshore industry.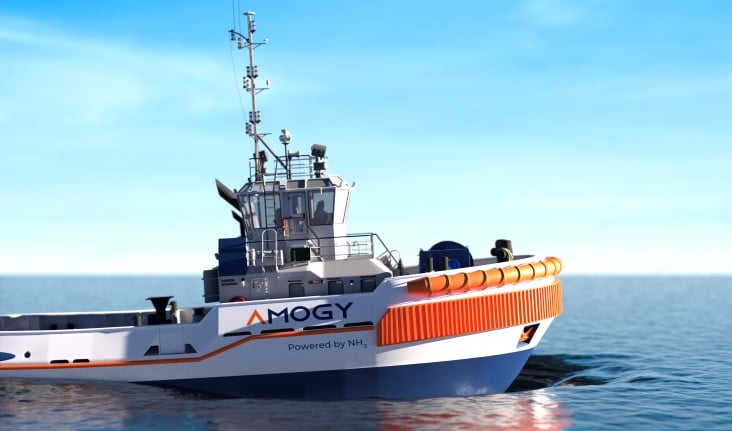 According to Amogy, the first focus of this collaboration is a possible retrofit of Amogy's proprietary ammonia-to-power system on one of Skansi's existing vessels, allowing it to operate with zero emissions.
Managing Director of Amogy Norway Christian W. Berg said: "Given the whole industry's strong commitment to clean fuels, it is crucial for us to make a positive impact here. We believe our partnership with Skansi and SEAM can serve as a compelling inspiration for other maritime operators to follow."
CEO of SEAM Gunvald Mortvedt commented: "We are very proud to have been chosen as a system partner in this exciting project. We believe in Amogy's ammonia-to-power solution, and are confident that, through close collaboration with both companies, we will be able to realise Skansi's important goals for a zero-emission offshore supply vessel, and thus showcase another technological milestone for zero-emission shipping."
Jens Meinhard Rasmussen, CEO of Skansi Offshore, welcomed the opportunity to collaborate with Amogy and SEAM to combine their technologies: "Integrating Amogy's ammonia-to-hydrogen technology in our vessel is a significant step in the right direction, bringing us closer to our long-term goal of decarbonising the maritime industry and reducing greenhouse gas emissions. Additionally, this partnership will help accelerate the global transition towards clean energy sources, furthering our commitment to sustainable practices in the maritime sector."
To remind, in April this year, Amogy and offshore wind vessel owner and operator Marco Polo Marine signed a MoU under which Amogy's ammonia-to-power system will be installed on the latter's existing or newly built wind vessels.
The MoUs follow Amogy's $139 million Series B-1 fundraising in support of the commercialisation of its ammonia-to-power technology.
At the time, Seonghoon Woo, CEO of Amogy, said: "This funding will help us to see our mission of forging a path toward net-zero 2050 through, and in turn, make the world more sustainable. We greatly appreciate the investors sharing our bold mission, and we are laser-focused to bring our technology to market."
To note, Amogy's ammonia-to-power technology feeds liquid ammonia through its cracking modules integrated into a hybrid fuel cell system, which powers electric motors for zero-carbon transportation including shipping.