Angelicoussis Books Its 100th Ship at DSME
Greek billionaire John Anthony Angelicoussis has ordered his 100th vessel at Korean shipbuilding major Daewoo Shipbuilding and Marine Engineering (DSME).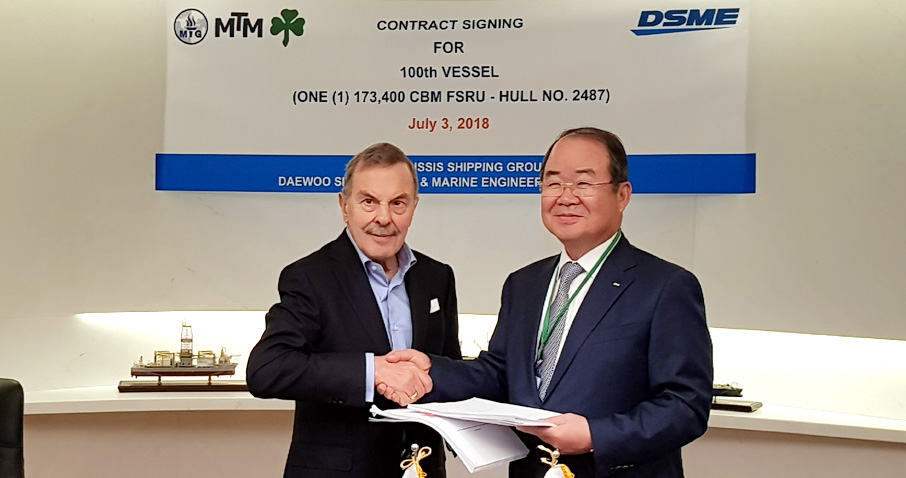 Namely, on July 3, Angelicoussis Shipping Group (ASGL) placed an order for a 173,400 cbm floating, storage and regasification unit (FSRU) at DSME for its Maran Gas Maritime brand.
The LNG FSRU is slated for delivery in the first half of 2021.
The order has brought the company's ordering tally to 100 ships, making Angelicoussis Shipping Group the first company to reach this milestone at DSME. Singapore's BW Group and Danish Maersk are right on top of DSME's major customer list with 65 and 55 vessel orders respectively.
The total value of the vessel construction contracts signed between the Greek shipping magnate and DSME over the past 24 years has reached USD 11 billion.
According to the DSME, out of the total, 82 vessels have been delivered so far, while 18 remain under construction at DSME's Okpo-based yard.
This year DSME has managed to secure orders for 27 ships worth around USD 3.4 billion, including 11 LNG carriers, 15 very large crude carriers and one special-purpose ship.
World Maritime News Staff