As the offshore drilling market tightens, what's up with the semi-sub rig fleet?
With the offshore drilling market experiencing an uptick over the past several months, the business side of things has been booming. As a result, higher demand has led to increased day rates and fleet utilisation across the jack-up, drillship, and semi-submersible rig fleets. In line with this, Westwood Global Energy, an energy market research and consultancy firm, underscores that the harsh environment semi-sub market is all sold out.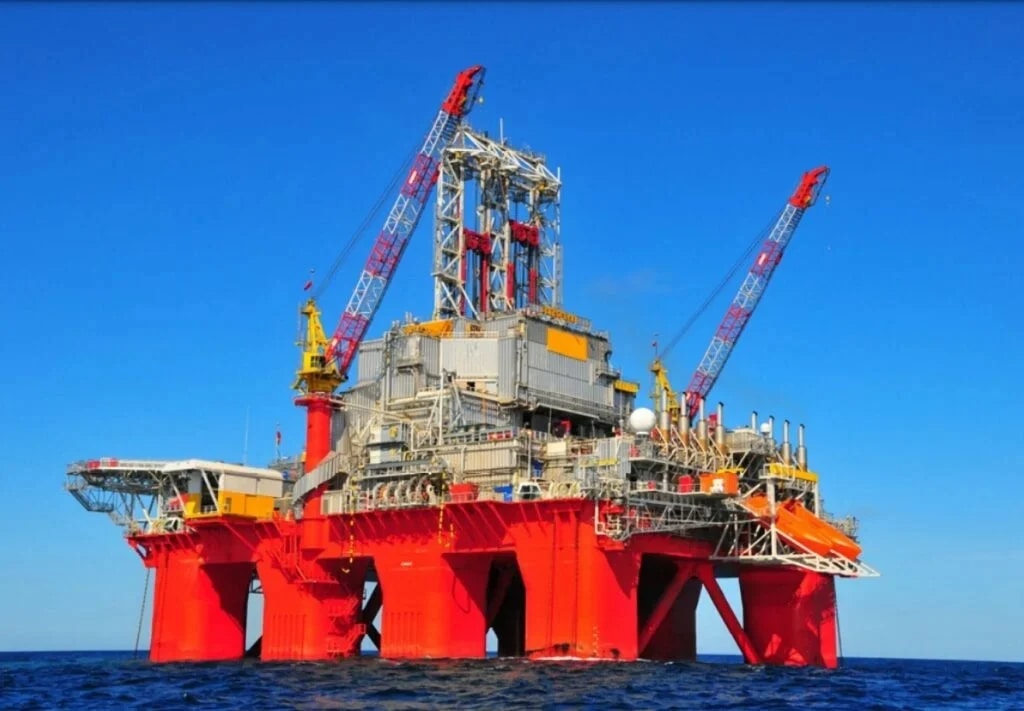 According to Teresa Wilkie, Research Director – RigLogix, committed utilisation of marketed sixth-generation harsh environment semi-submersibles has jumped 14 per cent in just six months and is now sold out at 100 per cent utilisation. This figure has not been recorded since February 2014. Westwood explains that the committed utilisation includes rigs, which are currently on hire or have an upcoming contract.
As a result of the boost in the semi-sub market, day rates for recent contract fixtures have also risen, with some well above $400,000, which has not been witnessed since 2015. Currently, the semi-sub fleet is made up of 27 active rigs, which are either on hire or have a contract starting in the future. Even though Northwest Europe still contributes the lion's share of demand, with 68 per cent of contracted days awarded this year, several of these rigs are being continuously confirmed for new work or extensions in other regions.
Furthermore, Wilkie points out that one of these "hot" regions for the semi-sub fleet is now Australia, where Transocean intends to relocate two of its CAT D rigs for three new long-term assignments. In addition, Mexico, China and Namibia have also contributed considerable demand thus far in 2023, and all are expected to remain critical for this fleet going forward.
While day rates for these rigs remained strong in comparison to most other rig types during the last oil price crash and the pandemic, especially in Norway, apart from a few outlier deals, Wilkie claims that they have struggled to surpass the mid-$300,000s since late 2015, but this is now starting to change.
The sixth-generation harsh environment semi-sub's average day rates – excluding priced contract options – for contracts fixed year-to-date are now $394,000, which is a 32 per cent increase compared to the full-year average for 2022 and is the highest average reached since 2014.
Moreover, Transocean and Odfjell Drilling have managed to drive day rates higher for these assets, securing new deals with rates reported as high as $484,000 (Australia), $457,000 (Australia), and $420,000 (Norway), respectively. However, Wilkie emphasises that these three fixtures do not begin until the first quarter of 2025, the first quarter of 2024, and the second quarter of 2024, respectively.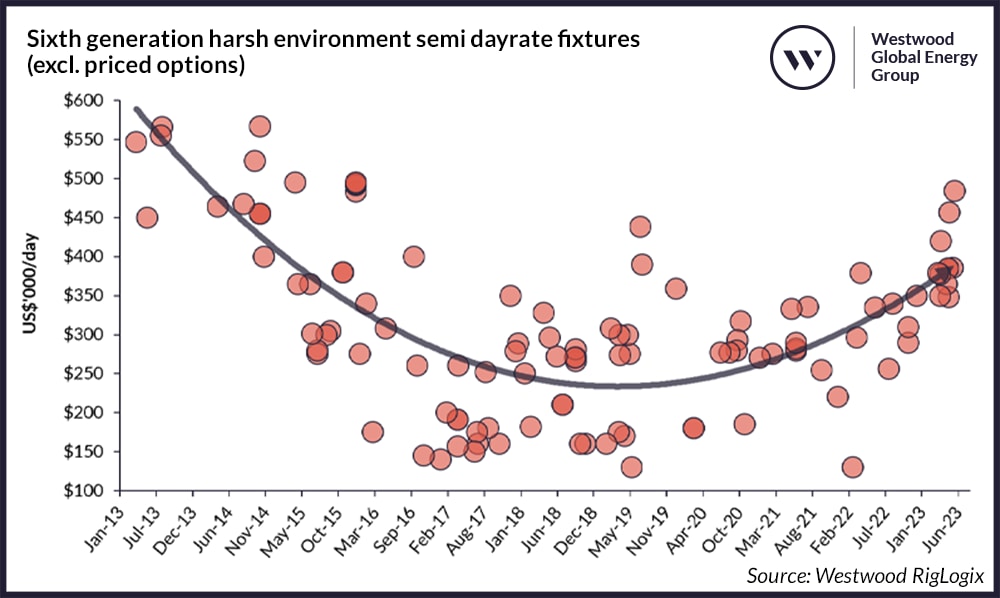 Wilkie further notes that the earliest availability, for those operators looking to secure a unit, appears to be late 1Q 2024 when the Transocean Barents rig comes off hire. This rig is already being bid on follow-on opportunities, as is the case for those units rolling off contract in the second quarter.
"The demand outlook for these high- specification rigs looks very bright, and recently there has been a wave of multi-year requirements brought to market from the likes of Equinor and Var Energi in Norway, which we believe represents their recognition of shrinking availability, fear of missing out on the right specification assets for drilling campaigns and, most worryingly, rising day rates that can affect overall project economics," outlined Wilkie.
Westwood's Global Offshore Drilling Rig Dayrate Forecast 2023-2027 suggests day rates in this segment are set to continue their escalation over the coming years, as demand for harsh environment rigs rises, coupled with a lack of newbuild assets or reactivation candidates, which Wilkie sees as "a saving grace" for the booming drillship and jack-up markets. Three cold-stacked sixth-generation assets are currently available and could be added to the fleet if reactivated while only four newbuilds are left in shipyards.
One of these newbuilds, says Wilkie, is the North Dragon, which has been secured for a long-term campaign in Mexico. The remaining three units, the sixth generation Beacon Pacific and the seventh generation ex-Awilco newbuilds – Nordic Spring and Nordic Winter – are all being bid on current tenders in the market.
Bearing this in mind, Westwood anticipates that day rates in this sector will continue increasing worldwide over the five-year forecast period, with rates likely to be secured at or above $500,000 for contracts beginning in late 2024 and early 2025.
"The steep economics behind a reactivation campaign or commissioning a newbuild will also add further pressure to commercial terms on a new rig deal. Of course, day rates for these units will continue to vary depending on specific rig capabilities, when the job starts, where work will take place, and the duration of the contract, but we expect to see significant increases across the fleet," concluded Wilkie.