Bassoe: Mind-numbing boredom consumes the offshore rig market, but it won't last
By: David Carter Shinn, Bassoe Offshore
---
It's gotta stop at some point. And it will. There's more excitement coming.
In our 2018 offshore drilling rig market recap, we mentioned that a lot of exciting stuff happened during the year. Check out our infographic for more details on what those things were.
Since then, it's easy to say that it's just been boring.
In fact, apart from a few nice contract awards including Transocean's five-year 20k drillship contract with Chevron, the only interesting thing to have happened recently was Seadrill's four-drillship joint venture with Sonagol. The new company, named Sonadrill, will bareboat Sonagol's two newbuild 7th gen drillships (still at DSME in Korea) and two of Seadrill's UDW drillships (presumably one of them will be the West Gemini). The four rigs have been given five-year contracts, and Seadrill will manage them.
Pretty smart move by Seadrill. It's great to see four ultra deepwater drillships being tied up for five years each especially when drillship utilization hasn't been able to get out of the 50s (%) during 2018, according to Bassoe Analytics.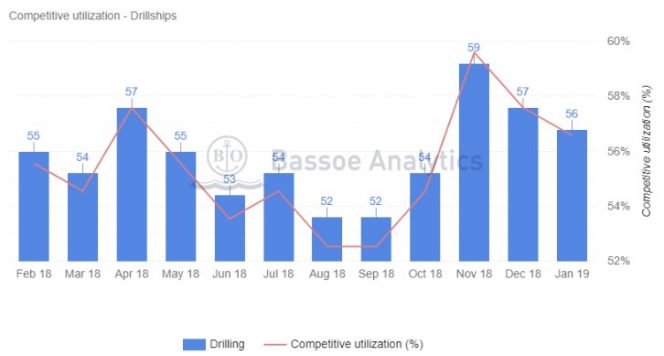 But back to our main point: things are boring
Utilization across the three main segments (jackups, semisubs, and drillships) is static.
Major contract events like the QatarGas' nine-jackup tender and Petrobras' deepwater tender have taken much longer than the market expected.
Some financially-challenged contractors like Dolphin Drilling are trying to figure out what to do with themselves.
The seemingly endless Ensco-Rowan transaction process still hasn't ended – although we expect it will finally end later this month.
Nobody wants to speculatively buy assets; contractor consolidation is still on the table but nobody's biting; oil prices are anemic; and non-oil related issues like trade war threats and global economic uncertainty are annoying people.
Rig owners are sort of trudging along, doing the best they can with what they have, hoping for some more action.
What's going to make it fun again?
It's like a movie with a long opening-credit sequence (accompanied by boring music). You want to get to the movie.
But you keep watching it because you know the movie's coming (you'll have to pretend you don't have the "Skip intro" feature on Netflix).
Anyway, some great things are coming to the offshore rig market – even this year. The first indications of them are even starting to show.
For example, for the first time in well over a year, we saw total drilling backlog rise in January.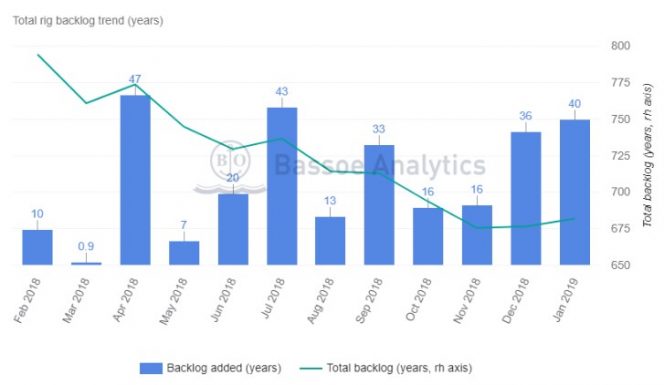 Next, places like Mexico are waking up. In the past two months, two jack-up contracts were awarded (to Borr and Saipem) and the semi-sub Maersk Developer got a 110-day job with Cairn in the country.
Beyond that, PEMEX has started a major jack-up tender process. According to news reports, they've already awarded contracts for the first of four project rounds. There's some risk in the timing and execution here, but demand in Mexico is going to rise.
The Middle East jack-up market will also get a bit of a boost when QatarGas finally awards contracts in their nine-rig tender process. Although this tender has been anticipated for well over a year, and dayrates are under pressure (QatarGas requested a rebid), it'll provide a pretty good boost to jack-up demand in the region.
West Africa is seeing some more activity in deep and shallow waters. Apart from Sonadrill's four drillships going to Angola, jack-up activity in Nigeria has picked up after awards to Borr and Shelf, and we expect more news from the region as the year progresses.
Brazil will see some deepwater demand growth from IOCs, and Petrobras is expected to award contracts for multiple rigs this year.
Four years of jack-up backlog has been added in the North Sea already this year. And while harsh environment semi-sub awards have slowed, they're expected to pick up as we move into the second quarter.
Australia has seen two years of backlog added since January, and as a result of this, Diamond Offshore is even reactivating and upgrading the 1973-built semi-sub Ocean Onyx.
On top of all this, South Africa is on the drilling rig map again after Total made a significant gas condensate discovery in the Brulpadda prospect with Odfjell's Deepsea Stavanger harsh environment semi-sub. With estimates ranging up to one billion barrels of oil equivalent, they'll be more drilling requirements here.
What's next? 
If we see more of the stuff we're seeing now – a more sustained buildup of demand – real excitement will follow.
More consolidation, more rig acquisitions, more rig scrapping (and more rig reactivations), big discoveries, and more investments might not be that far off.
Even if it seems slow, the little things which are happening are building up suspense.
And the suspense is what makes things interesting.
So it's actually not that boring, is it?
---
Offshore Energy Today has shared the article above with permission from the author. You can read the original post at Bassoe.no.
The views and opinions expressed in this article are those of the author and do not necessarily reflect the official policy or position of Offshore Energy Today.