BiMEP wave device composing for OPERA overhaul

The Marmok-A5 device, deployed for testing off the coast of northern Spain, will be retrieved for upgrades this summer as part of the EU-funded wave energy cost-cutting project.
After having survived its second winter in a row at BiMEP test site, the floating oscillating water column device prototype is preparing to be towed in for refitting and integration of different innovations developed in the OPERA project.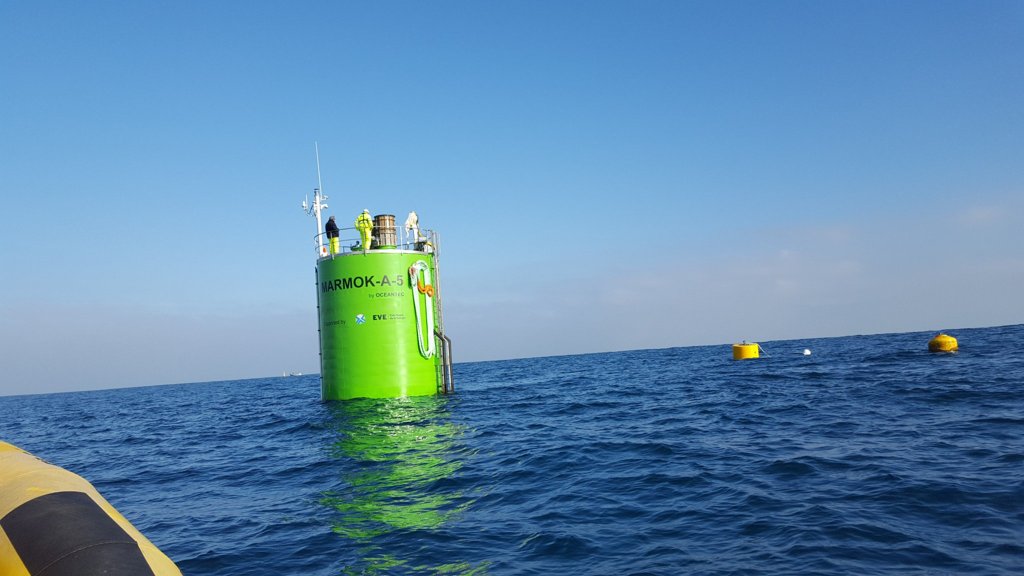 Then, it will be returned to its mooring site to collect more data for benchmarking, the OPERA (Open Sea Wave Operating Experience to Reduce Energy Cost) project team informed.
To remind, the device – developed by the Spanish wave energy company Oceantec Energías Marinas – marked one full year of deployment and grid-connection at the BiMEP site in December 2017.
OPERA project brings together an international project consortium made up of academic and industrial partners with the aim to develop and de-risk technologies that will reduce the cost of operating wave energy devices at sea by 50% and subsequently accelerate the roll-out of marine renewable energy.

Several innovations have been developed as part of the project, including the elastomeric mooring tether, recently showcased in a technical visit by OPERA consortium to Lankhorst-Euronete where the tether was produced.
The visit formed part of the general assembly meeting of the representatives of all consortium partners and three members of the external advisory board, during which cross-cutting issues, technical progress, and forthcoming plans were discussed.