BP Starts Alligin and Vorlich Fields Development; Awards Contract to Subsea 7
BP has started development of Alligin and Vorlich satellite fields in the North Sea, expected to produce 30,000 barrels gross of oil equivalent a day at peak production.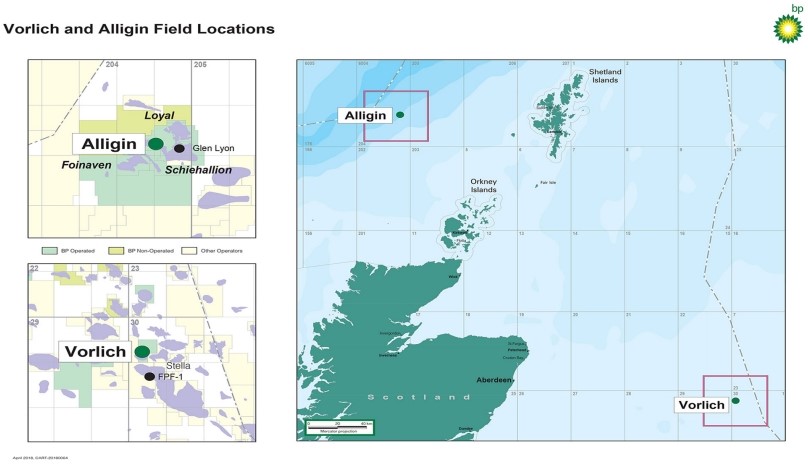 Alligin, a two-well development west of Shetland, will be tied back to BP's Glen Lyon floating, production, storage and offloading (FPSO) vessel, while Vorlich, also a two-well development in the central North Sea, will be tied back to the Ithaca Energy-operated FPF-1 floating production facility.
Both fields are expected to come on stream in 2020, the company noted.
BP also confirmed that it has awarded a major contract for the Alligin development to Subsea 7, which will provide project management, engineering, procurement and construction services for the subsea pipelines. The company will use reel-lay vessel Seven Oceans for the work.
Subsea 7 will deliver the contract from its Aberdeen base with offshore activities expected to get under way in 2019.
Meanwhile, BP has submitted its Environmental Statement for the Vorlich development to the Department for Business, Energy and Industrial Strategy (BEIS) and is finalizing its contracting strategy for the development.
Incoming BP North Sea regional president Ariel Flores said: "Through our Alligin and Vorlich developments we are simplifying and accelerating the stages of delivery to improve project cycle time, reduce costs and, importantly, add new production to our North Sea portfolio."
Alligin, where BP is the operator with 50% stake and Shell holding remaining 50%, is a 20-million-barrel recoverable oil field in the Greater Schiehallion Area, located approximately 140 kilometers west of Shetland.
Vorlich, also operated by BP with 66% interest while Ithaca Energy holds 34%, will recover over 30-million-barrels of oil equivalent and is located approximately 241 kilometers east of Aberdeen.