BP's new FPSO drifts away from quayside as typhoon passes through shipyard
BP's Tortue FPSO, destined for the Greater Tortue Ahmeyim project in Mauritania and Senegal, drifted off the quayside while at a shipyard in Qidong, China following an impact of Typhoon Muifa last week.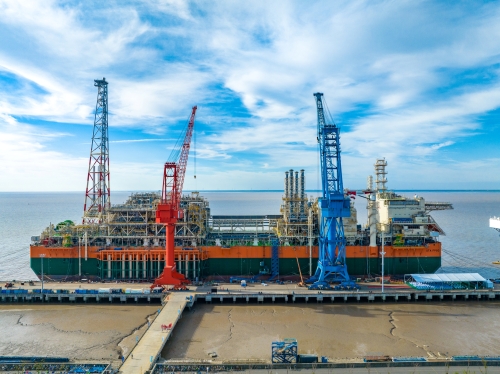 The floating production, storage and offloading vessel (FPSO) for the GTA project is being constructed at the COSCO yard in Qidong and it has recently been completed.
Kosmos Energy revealed on Friday that it had been informed by BP, the operator of the GTA project, of the impact of Typhoon Muifa. The typhoon passed through the COSCO shipyard in Qidong in China on Thursday.
According to a Thursday report from Reuters, the typhoon was the strongest tropical cyclone to hit the populous Yangtze River Delta in a decade. It was classified as a strong typhoon, the second-highest in China's tropical cyclone classification system, with the maximum wind speed near its centre reaching 42 metres per second.
During the typhoon, the mooring lines of the FPSO became compromised, resulting in the vessel drifting approximately 200 meters off the quayside. Kosmos said on Friday that the work was underway to enable the vessel to return to the quayside. No injuries have been reported in connection with this incident.
The vessel is 70 meters long, 54 meters wide, and 31.5 meters deep. The designed service life is 30 years and the oil storage capacity is not less than 1.44 million barrels. The living quarters can accommodate 140 people.
The cost of returning the vessel to the quayside and any potential damage is expected to be covered by insurance, according to Kosmos.
It is still unclear whether this incident will impact the vessel's sailaway date, which is planned for the fourth quarter of this year. The project is expected to achieve the first gas in 3Q 2023 and the first LNG at the end of 2023.
Kosmos said it would provide an update as additional information becomes available.
The GTA project will produce gas from an ultra-deepwater subsea system and mid-water FPSO vessel, which will process the gas, removing heavier hydrocarbon components. The gas will then be transferred to a floating liquefied natural gas (FLNG) facility at a nearshore hub located on the Mauritania and Senegal maritime border.