Bureau Veritas validates SolarDuck's floating solar unit in an industry first
Certification group Bureau Veritas has delivered the world's first Approval in Principle (AiP) for an offshore floating solar solution to Dutch company SolarDuck, marking the beginning of a new era for this form of renewable energy.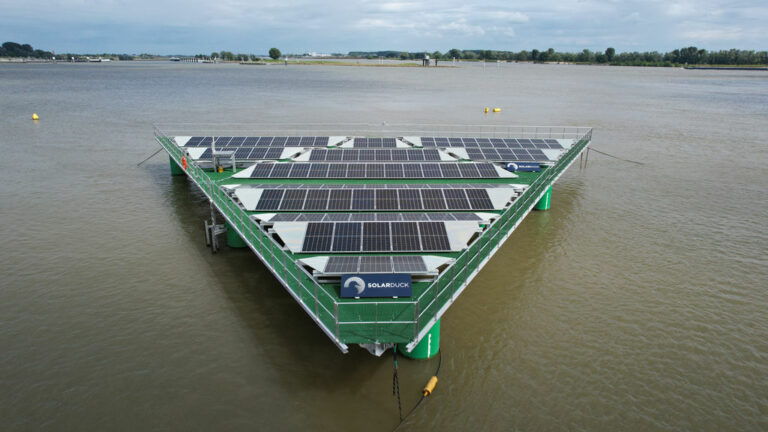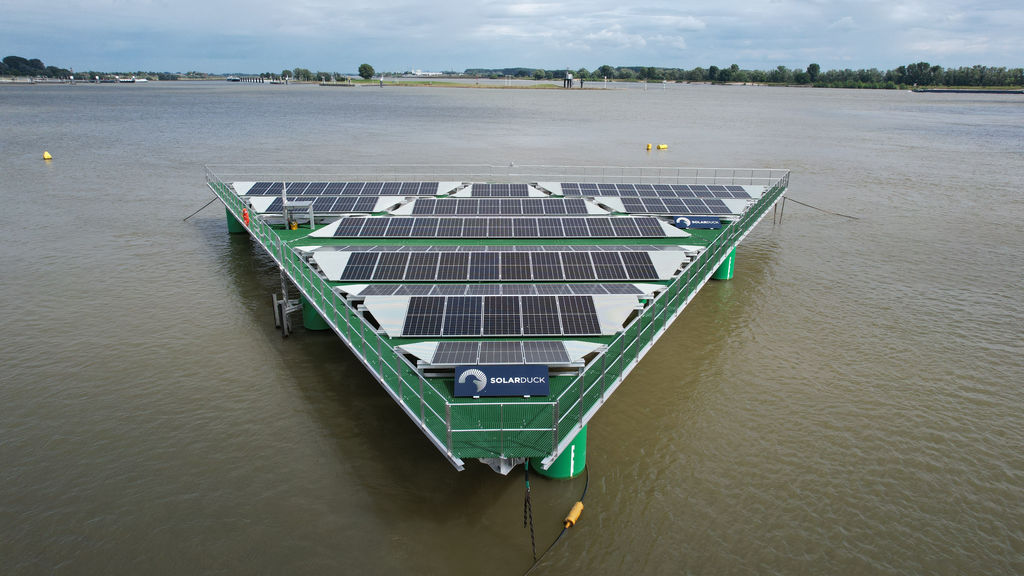 Launched in April 2021 in IJzendoorn in the Netherlands, SolarDuck's first pilot dubbed 'King Eider' consists of four triangular-shaped units, which are mounted by 156 solar panels and deliver a combined electrical output of 64kWp to the grid.
The structure holds the solar panels more than three meters above water level. The platform is designed to handle coastal sea conditions and hurricane-force winds. It is also optimized for offshore sites in estuaries, natural harbours, as well as near-shore sites.
The project was born from the ambitions of a group of maritime and energy engineers, who founded SolarDuck in order to play an active role in getting the world to net zero.
Upon realizing that solar energy is the cheapest and most efficient form of renewable energy for many cities, islands, and regions around the globe, but inaccessible to many of these regions due to land scarcity constraints, the team initiated the project to make solar panels float offshore.
Bureau Veritas was involved in the project from the design stage, the certification group said.
The AiP covers the design methodology of the unit's structure and validates the relevant parts against guidance note NI631 on the Certification Scheme for Marine Renewable Energy Technologies, and NI572 on the Classification and certification of floating offshore wind turbines. These guidance notes provide the requirements to certify novel marine renewable energy technologies.
Don Hoogendoorn, CTO of SolarDuck, said: "In my decade in the maritime industry, I have learned how to optimize design for reliability, ease of maintenance and safety, while keeping them cost efficient. At SolarDuck, we aim to design systems that will last over 30 years, as I was used to doing when I built ships. Getting external official validation that our system performs as it should makes me proud of my team".
Paul Shrieve, vice president offshore & services at Bureau Veritas Marine & Offshore, added: "Building on our experience in the marine and offshore market, we supported SolarDuck throughout this innovative journey by assessing risk, analysing regulations, and improving the overall structure performance and mooring safety.
"We are proud to be part of the venture and to contribute to make this cutting-edge solution reliable. I am proud to say Bureau Veritas is well positioned to help develop innovative solutions that support society's new demands and aspirations".