Cairn Energy to drill Chimera well using Stena Don rig
Cairn Energy has said it has hired the Stena Don semi-submersible drilling rig for an exploration well offshore the UK.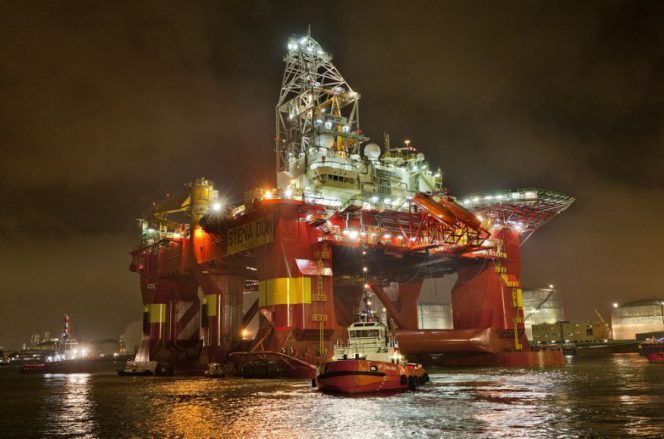 In a conference call on Tuesday, Cairn executives said the Chimera well, located in P2312 in the UK sector of the North Sea, could, in case of a discovery, be a play-opener and had the potential to be "highly material to shareholders."
While located in the mature area, Cairn said the Chimera prospect, previously overlooked, has now been identified using a high-end seismic data.
Cairn has previously said that the Chimera, in which it owns 60 percent stake, would be drilled in the fourth quarter of 2019.
In 4Q 2018, Cairn agreed to farm out a 40% WI in this license to an unnamed operator. In its 2018 full year results announcement on Tuesday, Cairn revealed that that operator is Suncor Energy UK.
The operator has said that the Chimera prospect, which is targeting 154 gross mmboe mean resource, has the potential to be developed as a stand-alone development.
The oil company did not provide further info on the drilling contract terms with Stena Drilling itself. Offshore Energy Today has reached out to the drilling contractor Stena Drilling to seek more information on the Stena Don drilling deal.
Erik Rønsberg, Stena Drilling Managing Director has confirmed the deal for Offshore Energy Today.
He said: "We are absolutely delighted that hot on the heels of the Stena Spey contract we signed last week with Ping Petroleum UK Ltd., we have managed to sign a contract for Stena Don to work with Cairn Energy PLC (with its wholly owned subsidiary, Nautical Petroleum Limited). The Stena Don is just about to start a drilling campaign with Total E&P UK Ltd. and should move to Cairn's Chimera prospect in the UK North Sea in Q3 this year. We have worked with Cairn Energy in the past, most recently with the Stena DrillMAX in Senegal in 2017.
"In 2018 we got approval from the rig owner to upgrade the DP drilling unit Stena Don with an anchor mooring system, complying with the latest DNV, UK and Norwegian regulations. This has widened the market significantly for the Stena Don and given us the opportunity with Cairn Energy on the Chimera prospect. With Don set to spud a well at the end of this month, our fleet of drilling units will all be back in operation, with full attention given to delivering safe and high operational performance."
The rig was last year awarded a contract with Total to drill one well for on the Laggan field in the first quarter of 2019. The Laggan field is located west of the Shetland Islands.
As for Cairn, and its operations not in the North Sea basin, the compay is preparing to drill three wells in Mexican waters this year, two as operator and one as a partner.
Offshore Energy Today Staff