Overview page containing news articles
News
List of the highlighted articles
In this session three professionals from Offshore Energy's supporting and endorsing partners will sh...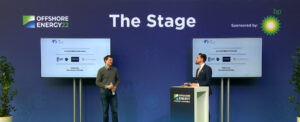 In today's Marine Energy Alliance talk, Paula van Lieshout (SolarDuck), Félix Elefant (EVER) a...

Professionals from the industry discussed floating wind during the panel session 'Focus on Floating ...
Subscribe to the daily newsletter
Daily news in your inbox?
The latest news and in-depth stories Daily news and in-depth stories in your inbox