Cedar LNG, SHI and Black & Veatch conclude deal on shipyard capacity
The Haisla Nation and Pembina Pipeline, partners in the development of the proposed Cedar floating LNG export project in Canada, have signed heads of agreement (HoA) with shipbuilding company Samsung Heavy Industries (SHI) and LNG infrastructure solutions company Black & Veatch to secure access to shipyard capacity for the project.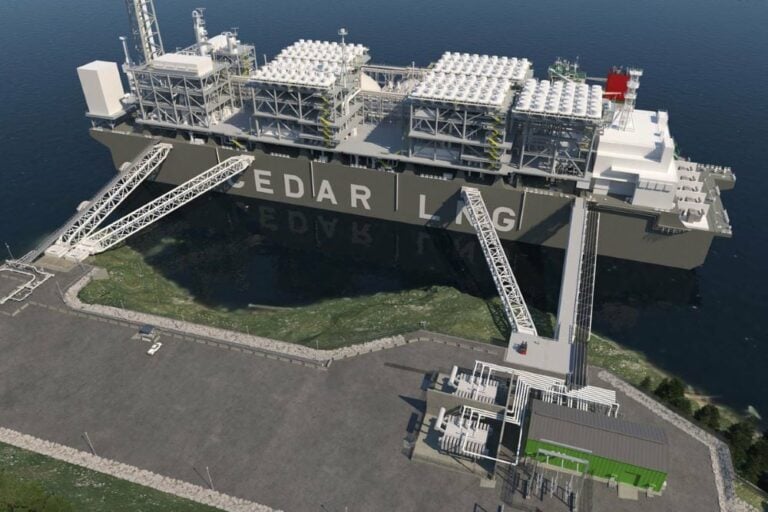 Specifically, the HoA provides Cedar LNG, on an exclusive basis with SHI and Black & Veatch, secure access to shipyard capacity to meet Cedar LNG's target commercial operations date.
The parties also expect to finalize an engineering, procurement, and construction agreement in December of 2023, Cedar LNG noted.
Doug Arnell, Cedar LNG CEO, commented: "This exclusive relationship with SHI and Black & Veatch to lock in shipyard capacity for the construction of the Cedar LNG FLNG vessel is a major step forward for our project."
"Through this agreement, we are accessing world-class expertise in the construction and delivery of floating LNG production vessels, which, together with renewable power from the BC Hydro grid, will result in an environmentally leading, state-of-the-art facility for Cedar LNG, with one of the lowest carbon footprints in the world."
To note, the floating LNG facility is to be located on Haisla Nation-owned land in Kitimat, B.C., Canada, with the capacity to export three million tons per year of LNG.
According to Cedar LNG, this agreement builds further momentum for the project and follows the receipt of all major regulatory approvals and the signing of memorandums of understanding (MoU) for long-term liquefaction services with investment-grade counterparties for the project's total LNG capacity.
The target final investment decision (FID) continues to be by the end of 2023, however, given the complexity and sequencing of aligning the multiple work streams, which are required to facilitate project financing, FID may move into early 2024, Cedar LNG noted. The FID was first pushed to the fourth quarter of 2023 in August 2023.