CGX and Frontera execute Guyana farm-in deal
Canada's CGX Energy and Frontera Energy have executed a farm-in joint venture agreement covering CGX's two shallow water offshore Petroleum Prospecting Licenses in Guyana, the Corentyne and Demerara Blocks.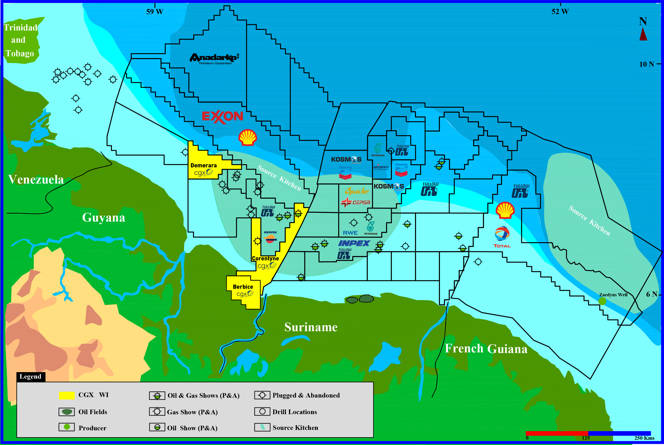 These agreements remain subject to Guyanese government approval, Frontera said last Friday.
CGX and Frontera also announced that they had entered into an amended and restated bridge loan agreement, pursuant to which Frontera had agreed to extend the term of CGX's April 25, 2018, bridge loan to September 30, 2019, and to update certain other terms and conditions.
Frontera has the option to convert up to $8.8 million principal amount of the loan into CGX common shares at a conversion price of $0.22 per share, at any point on or before maturity of the loan.
To remind, Frontera and CGX last December entered into a letter of agreement to enable CGX to finance the drilling costs related to the Corentyne and Demerara offshore blocks, which were 100% owned and operated by a subsidiary of CGX.
It was agreed that, upon completion of the agreement and receipt of regulatory approval for the farm-in, Frontera would acquire a 33.33% working interest in the two blocks in exchange for a $33.3 million signing bonus. Frontera agreed to pay one-third of the applicable costs plus an additional 8.333% of CGX's direct drilling costs for the initial exploratory commitment wells in the two blocks. CGX would be the operator with assistance from Frontera.
In January 2019 the two companies amended the letter of agreement to extend the time of launch of the equity financing in the amount of approximately $20 million. Frontera said in January that the launch would occur on or before February 6, 2019, and anticipated to be completed on or before March 15, 2019, subject to regulatory approval.
Also, CGX and Frontera amended the letter agreement to extend the time by which CGX Resources Inc and Frontera would enter into a farm-in joint venture agreement covering the two blocks on or prior to February 6, 2019.