Guyana: CGX, Frontera amend financing and farm-in deals. Drilling schedule unchanged
CGX Energy and Frontera Energy Corporation have amended a letter agreement to extend the time of launch of the equity financing in the amount of approximately $20 million.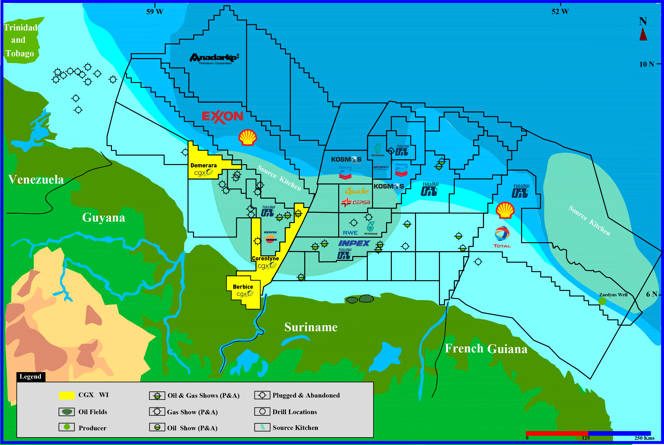 Frontera said on Friday that the launch would occur on or before February 6, 2019, and anticipated to be completed on or before March 15, 2019, subject to regulatory approval.
Also, CGX and Frontera amended the letter agreement to extend the time by which CGX Resources Inc., a wholly owned subsidiary of CGX, and Frontera would enter into a farm-in joint venture agreement covering CGX's two shallow water offshore Petroleum Prospecting Licenses in Guyana, the Corentyne and Demerara Blocks to on or prior to February 6, 2019.
To put things into context, Frontera and CGX entered into a letter of agreement in December 2018 to enable CGX to finance the drilling costs related to the blocks, currently 100% owned and operated by CGX Resources.
At the time, Frontera stated that it would acquire a 33.33% working interest in the two blocks in exchange for a $33.3 million signing bonus. The company agreed to pay one-third of the applicable costs plus an additional 8.333% of CGX's direct drilling costs for the initial exploratory commitment wells in the two blocks. CGX would remain the operator with assistance from Frontera.
According to Frontera's statement on Friday, these changes to the timing are not expected to have any impact on the timing of the drilling of the Utakwaaka-1 exploration well on the Corentyne Block which is required to be drilled by November 27, 2019.
It is worth reminding that CGX Energy signed a definitive rig agreement with Rowan for the use of the Ralph Coffman offshore jack-up rig which is set to begin during the second quarter of 2019.
Under the contract, the rig will drill one firm well in the Suriname basin. The estimated duration of the contract is 60 days.
When it comes to the drilling location, the Corentyne block contains 1,125,000 net acres offshore Guyana in shallow water, adjacent to the ExxonMobil-operated prolific Stabroek block which has encountered ten discoveries since May 2015. The Utakwaaka well is required to be drilled by November 27, 2019, with an additional exploration well to be drilled by November 27, 2022.
Offshore Energy Today Staff