ConocoPhillips wraps $350M Greater Sunrise Fields stake sale
U.S. oil and gas firm ConocoPhillips has wrapped up the previously announced sale of its interest in the Greater Sunrise Fields in the Timor Sea.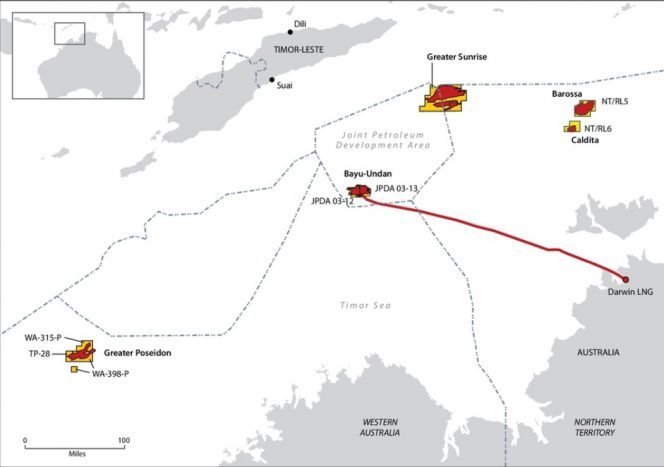 ---
By Bartolomej Tomić
---
The Greater Sunrise fields, comprised of the Sunrise and Troubadour gas and condensate fields, are located some 150 kilometers south-east of Timor-Leste and 450 kilometers north-west of Darwin, Northern Territory. Woodside is the operator of the project.
The offshore gas fields were discovered in 1974 and hold gross (100%) contingent resources (2C) of 5.13 Tcf of gas and 225.9 million barrels of condensate. The development has been hampered by a dispute on the maritime border between Timor-Leste and Australia. On March 6, 2018, Timor-Leste and Australia signed their new Maritime Boundaries Treaty opening path for development of the Sunrise gas fields.
Negotiations between the two Governments and the Sunrise Joint Venture on the new Greater Sunrise PSC started in November 2018.
ConocoPhillips has sold a 30 percent share to the Timor-Leste government for $350 million and is no longer involved in the project.
"We are pleased to complete this transaction with the government of Timor-Leste," said Matt Fox, executive vice president, and chief operating officer. "ConocoPhillips recognizes the importance of the Greater Sunrise Fields to the nation of Timor-Leste, and this sale gives them a significant working interest in this important development."
To remind, ConocoPhillips first announced the agreement to sell off its Greater Sunrise interest in October 2018. Come November, Shell also announced it would exit the long-stalled project by selling its 26.6 percent interest to the Timor-Leste government for $300 million.
Onshore development option
Worth noting, apart from the maritime border disputes between Timor-Leste and Australia, the companies and the Timor-Leste gov't have differed in the view on how to develop the field. While the companies involved in the Woodside-operated project prefer the offshore facility development, Timor-Leste has been leaning towards an onshore LNG facility development in the country.
Following the sell-off by Conoco and Shell, the onshore facility in Timor-Leste is the most likely way forward.
Energy Intelligence firm Wood Mackenzie in October 2018 said the development via an onshore LNG plant in Timor-Leste would require the construction of a new liquefaction plant and associated infrastructure; an FPSO to process and handle the condensate, and construction of a pipeline connecting the FPSO to shore.
---
Related: Timor-Leste, Australia settle border dispute, opening path for development of Sunrise gas fields
---
"Timor-Leste authorities are determined to harness the economic benefits of an onshore development. The Timor-Leste government is also pursuing the development of Sunrise to replace declining revenues from the mature Bayu Undan field," Wood Mackenzie's analyst David Low said in October.
"We believe the key onshore project risk is the construction of a greenfield LNG project in a country that has historically lacked large-scale infrastructure projects. The next step is for the project to put forward a viable development plan that all the project participants would be willing and happy to commit too," Low added.
Woodside: Sunrise is a keeper, but offshore option preferred
In its recent annual report, Woodside, the operator of the project with a 33.44 percent stake, said that while the new PSC arrangements are being negotiated, the Sunrise Joint Venture will meet its obligations under existing PSCs (JPDA 03-19 and JPDA 03-20) and Retention Leases (NT/ RL2 and NT/RL4), continue ongoing social investment activities in Timor-Leste and maintain an office in Dili. According to the report, production from the Sunrise project is not expected before 2027.
Asked in February if Woodside had been approached to sell its stake too, at what are believed to be good prices received by Shell and Conoco, Woodside CEO Peter Coleman said: "We've been very clear that we're not a seller in Sunrise. And if you look at it, yes, the pricing on an equity basis looks fine… Our view is […] that Sunrise is a keeper for us."
He also said that Woodside was happy to invest in the offshore development, "but we're certainly not comfortable in putting any significant capital into an onshore development at this point."
"But we've also offered that, if Shell and ConocoPhillips do exit, then we would be the technical operator for the onshore part of it."
Offshore Energy Today Staff
---
Spotted a typo? Have something more to add to the story? Maybe a nice photo? Contact our editorial team via email.
Offshore Energy Today, established in 2010, is read by over 10,000 industry professionals daily. We had nearly 9 million page views in 2018, with 2.4 million new users. This makes us one of the world's most attractive online platforms in the space of offshore oil and gas and allows our partners to get maximum exposure for their online campaigns. 
If you're interested in showcasing your company, product or technology on Offshore Energy Today contact our marketing manager Mirza Duran for advertising options.
Related news
List of related news articles