Construction of Hoegh Autoliners' Aurora-class ships ahead of schedule
The construction of new multi-fuel and zero-carbon ready Aurora-class vessels of Norwegian RoRo shipping company Höegh Autoliners is progressing ahead of schedule, the company said in an update.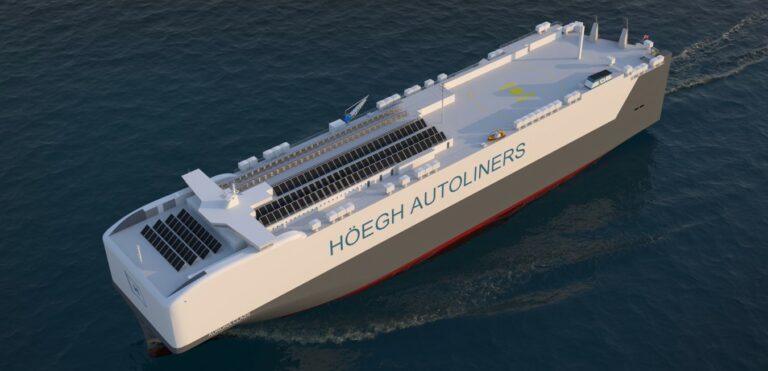 The company's Chief Operating Officer, Sebjørn Dahl, recently returned from a visit to China Merchants Heavy Industry, the shipbuilder that is in charge of the construction process, after checking the progress of the construction.
"We are two months ahead of schedule, and I couldn't be happier with the exceptional work being done by China Merchants Heavy Industry. The entire operation is truly inspiring," Dahl said.
As a result, the first Aurora-class vessel is scheduled for delivery as early as July next year, while the second Aurora vessel is also anticipated to be delivered ahead of schedule, with an expected arrival in September next year, subject to successful ongoing progress.
The construction process has seen the production of 182 steel blocks for the Auroras, with the first two undergoing sandblasting and painting, the update reads.
Designed to accommodate up to 9,100 cars, the Aurora class vessels are setting new standards in sustainable maritime transportation. One of their groundbreaking features is the ability to operate on zero-carbon ammonia, making them the first of their kind in the PCTC segment.
The Norwegian maritime player entered into a contract with CMHI for four fixed and eight optional multi-fuel and zero-carbon ready Aurora-class vessels in January 2022, and in April 2022, it exercised the option for the construction of additional four vessels, extending the newbuilding program to eight vessels.
The shipping company informed that the vessels will have DNV's ammonia and methanol-ready notation, with the main engine provided by MAN and the bridge system supplied by Kongsberg.
Höegh Autoliners retains its existing option for another vessel quartet until the end of July 2023.
Additionally, the Norwegian company has reached an agreement with CMHI that allows it to accelerate its green fleet renewal program from 12 to 16 Aurora vessels.
As disclosed, the additional four vessels will be in the form of slot reservations on market terms until the end of December 2022 and the first right of refusal on four slots until the end of July 2023.
Vessels 13-16 would be slated for delivery in 2026 and 2027, should the company pursue this acceleration opportunity.
In May this year, Höegh Autoliners signed a partnership agreement with compatriot green energy provider North Ammonia for the supply, distribution, delivery, and consumption of green ammonia.
The green ammonia is meant for ammonia-ready dual-fuel Aurora-class vessels.