Crown LNG Holdings to go public via merger deal
Crown LNG Holdings, a provider of LNG liquefaction and regasification terminal technologies for harsh weather locations, and Catcha Investment, a publicly traded special purpose acquisition company, have announced a definitive agreement for a business combination that is set to result in Crown becoming a U.S. publicly listed company.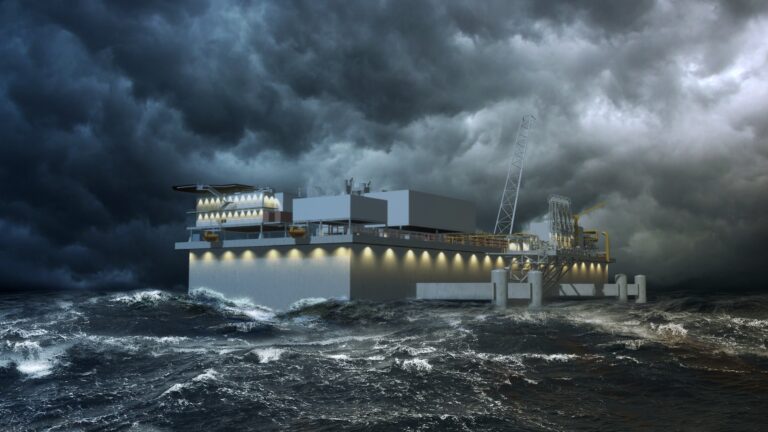 Specifically, Catcha has agreed to combine with Crown based on a pre-money valuation of Crown at approximately $600 million. The transaction is expected to provide $50 million of capital, with net proceeds going to fund Crown's Kakinada and Grangemouth projects to the final investment decision (FID).
The implied pro forma enterprise valuation of the merged company is expected to be approximately $685 million, and according to the two parties, the new company, named Crown LNG Holdings Limited (PubCo), intends to apply to list its shares on the New York Stock Exchange under the new ticker symbol CGBS.
To note, Crown designs and plans to own and operate offshore LNG terminals in locations where onshore facilities are not feasible or desirable for reasons of harsh weather, safety, cost or environmental impact.
The company is active in two parts of the LNG value chain: liquefaction, where natural gas from producers is supercooled to a liquid for transport by ship as LNG, and regasification, where the LNG is turned back into gas and delivered to consumers and businesses as natural gas.
Crown said it aims to expand the global market for LNG (particularly LNG supplied from the U.S.) and contribute to lower carbon emissions in markets it serves by replacing coal with LNG.
Its bottom-fixed, gravity-based structure (GBS) design is also expected to ensure lower cost and a reduced environmental footprint versus a comparable land-based LNG terminal alternative.
Commenting on the merger, Swapan Kataria, CEO of Crown, said: "This business combination with Catcha is a transformative step for accelerating Crown's growth, with the aim to provide its investors with a stable, long-term return on their investment."
"Our targeted blue-chip potential customer base will reflect the strong and growing global demand for harsh weather LNG infrastructure allowing for year-round operation to enable the global energy transition and ensure energy security by facilitating access to reliable natural gas supplies, as well as hydrogen, ammonia and power."
"The capital raised in this transaction will further strengthen our ability to execute on our diversified project pipeline in India, the UK, Vietnam, Canada and other global markets."
Catcha's CEO Patrick Grove stated: "Catcha is excited to be partnering with Crown today. The LNG market is being driven by strong market tailwinds, including rising energy security concerns and the increasing use of natural gas as a transition fuel with a tenth of the emissions of coal-fired plants."
"Crown will help to enable LNG access for under-served markets which have been traditionally ignored by existing operators and at the same time benefit everyone in the ecosystem, customers, governments, producers and investors."
"There is clearly a massive addressable market and use case in regions which experience harsh weather conditions, and we strongly believe that Crown, with their deep industry experience and innovative culture, will be a leader in addressing that demand."
According to the companies, the global demand for LNG is anticipated to increase from 351 million tons per annum (mtpa) in 2020 to approximately 570 mtpa by 2030, an increase of more than 60%, but at the same time, and as a result of the rapid and dramatic increase in demand, there is expected to be an LNG supply deficit of more than 40 mtpa by 2030.
Thus, to reduce the anticipated LNG supply shortfall, additional new facilities for both the export and import of LNG are needed over the next decade, many of which will need to be located in geographies prone to extreme weather events, the companies said, noting that Crown's GBS designs for both liquefaction and regasification offshore terminals are able to significantly reduce impacts and downtime resulting from extreme weather.
Crown said its GBS facilities are designed to rest directly on the seabed, after preparation and levelling. It noted that the typical GBS contains two membrane tank compartments, which store the LNG temporarily after unloading, or prior to delivery onshore, and this 'LNG island' offers greater reliability allowing operations year-round, including in harsh weather conditions, when compared with floating alternatives.
To note, Crown said it will construct its GBS facilities in partnership with Aker Solutions, an offshore bottom-fixed facility development and construction company, as well as with technology providers Wärtsilä Gas Solutions and Siemens Energy.
Currently, Crown is advancing the development of two projects toward FID: Kakinada, on the east coast of India, and Grangemouth, in Scotland.
Preliminary front-end engineering and design (Pre-FEED) studies for the Kakinada project have been completed by international partners, Crown said, adding that the project will take advantage of existing onshore natural gas infrastructure in the country.
For the Grangemouth project, Crown said it has entered into an exclusivity agreement with GBTron Lands Limited for the use of the proposed offshore site on the Forth River. Furthermore, a site study for the deepwater port with LNG vessel access has been completed, and Crown said it has begun the consenting process with the Scottish Government, which can be completed in as few as seven months. Existing power grid and gas grid access is available within ten miles of the proposed site location, and the company noted it will employ FSRU technology for the project.
Follow Offshore Energy's Clean Fuel: