Doha Port Expands Berthing Space, Completes Dredging
Doha Port has completed another step as part of its redevelopment project that would allow the port to welcome bigger ships.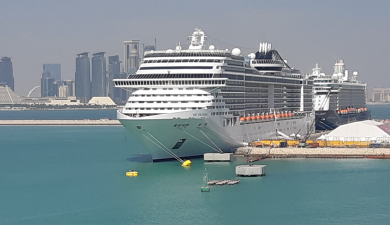 According to Qatar's Ministry of Transport and Communications (MOTC), the latest phase included dredging of up to 3.5 million cubic meters of material in the approach channel.
Additionally, the officials said that extra berthing space has been provided with the aim to accommodate more than one giant cruise ship.
MOTC said that it aims to boost Doha Port's capacity to be able to receive the largest cruise ships in the future, helping to position the city among world's top cruise ship tourism destinations.
"Transforming Doha Port into a main hub for cruise ships in the region will generate significant economic returns to several key industries in Qatar," said Sheikh Mohamed bin Khalid Al Thani, Director of Technical Affairs, MOTC.
He added that the port would contribute to boosting Qatar's ranking as a favorite tourism destination in the region through receiving supersize cruise ships.