EEC shares insights on overcoming hurdles in permitting process for recycling of 1st ship
Netherlands-based ship recycling startup Elegant Exit Company (EEC) has received a green light from the Supreme Council for Environment (SCE) in Bahrain, a government entity in charge of the country's environment strategy development, to move forward with the recycling of its first vessel.
Elegant Exit Company (EEC) is on a mission to change the ship recycling industry by converting old ships into green steel. The business strategy is to scrap ships in a sustainable way while making a profit at the same time.
The company bought the 1998-built containership, Wan Hai 165, from Taiwanese shipping company Wan Hai Lines back in February 2023.
The plan was for the vessel to undergo sustainable and responsible ship recycling at the Bahrain-based ASRY yard, one of EEC's partner yards.
However, the company could not move forward with the demolition process before getting approval from SCE, which has been stalled for months.
Offshore Energy spoke with Capt Soumitro Roy, EEC's Head of Middle East Operations, to learn more about the process and reasons behind the delays in the permitting process.
Recalling his early experiences, Captain Roy took us back to 1979 when he witnessed the sinking of a vessel to create an artificial reef. This event sparked his passion for environmental issues, even at a young age. Later, in 2002, a visit to a ship recycling yard in Alang gave him with a firsthand glimpse of beached vessels in various stages of demolition. These encounters planted the seeds of a lifelong commitment to responsible ship recycling.
After a four-decade career, he formally joined EEC on January 1, 2021. His connection with Uday, the founder of EEC, whom he had sailed with in the past, influenced his choice to join the company.
Discussing the recent clearance for the start of the demolition of the Wan Hai 165 container vessel, Captain Roy sheds light on the challenges faced during the permitting process.
"The permitting process for the demolition of the Wan Hai 165 container vessel faced delays due to initial misconceptions about our commitment to responsible green ship recycling. It took time for local regulatory bodies to understand the ESG-centric nature of our project. We encountered skepticism and were initially perceived as potential polluters, which was disheartening. Furthermore, the length of the process was influenced by the variations in the ease of doing business worldwide, highlighting the need to adapt to different regulatory environments," he said.
When delving into the specific aspects of operations scrutinized for local and international compliance, Captain Roy highlights three key areas. These include analyzing the national legislative framework, evaluating the recycling yard's capabilities to meet statutory and regulatory requirements, and assessing the downstream waste management infrastructure.
"The permitting and regulatory process presented significant challenges. The Hong Kong Convention, which we adhere to, has limitations in monitoring downstream hazardous waste management and preventing pollution in the intertidal zone. Additionally, obtaining certification for our yard proved challenging due to the perception of ship recycling as a downgrade. We overcame these hurdles by emphasizing the noble cause behind our project, maintaining transparency, and ensuring compliance at every stage," he continued.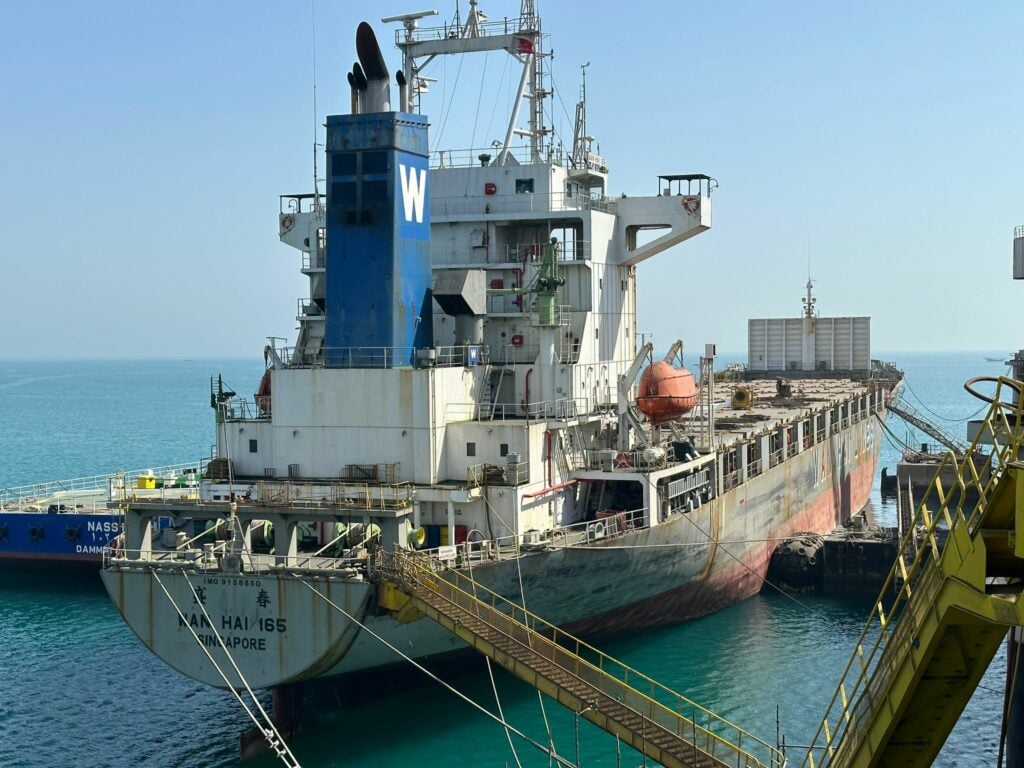 Treating the ship as if it was registered under the EU flag has greatly benefited the overall process and compliance standards, Captain Roy explains. Compliance with the EU Ship Recycling Regulation (EU SRR) assures ship owners with high ESG commitment that their assets will be recycled transparently and in full compliance with stringent regulations.
Moving forward, EEC aims to transition from a strategically aligned supply chain management model to a vertical supply chain management model. This entails owning vessels, ship recycling yards, and steel mills under the EEC umbrella.
"We intend to replicate this model in various locations, with the Middle East being our initial focus," he said.
"Looking ahead, the market for sustainable shipbreaking practices is expected to evolve significantly in the coming years. With approximately 15,000 vessels requiring recycling within this decade, supply and demand dynamics will play a crucial role. As environmental awareness grows and factors like leed steel and carbon taxes come into play, steel mills will face a mismatch in the supply of ferrous scrap, leading to a willingness to pay sustainable prices for an assured supply. Ship owners, faced with limited recycling slots, will also be inclined to sell their assets at sustainable prices for green recycling. Furthermore, ship recycling yards, benefiting from a steady supply of vessels, will invest in additional infrastructure to lower demolition costs. Ultimately, market dynamics will drive the establishment of sustainable pricing for all stakeholders involved."
Addressing the challenges posed by existing shipbreaking companies that prioritize cost reduction over compliance, Captain Roy says that ECC aims to leverage advanced technologies such as AI and Robotics to enhance efficiency and reverse the cost reduction trend.
"Our core belief is that no human should be engaged in tasks that can be performed by technology, especially when the necessary technological solutions already exist. By leveraging these advancements, we aim to deliver higher quality services while maintaining strict adherence to environmental and work safety regulations," he added.
While the timeline for the Hong Kong Convention's entry into force depends on securing sufficient votes for ratification, he believes that promoting comprehensive best practices across the industry can help overcome obstacles.
"The timeline for the Hong Kong Convention's entry into force is dependent on securing sufficient votes for its ratification, often resulting in compromise and the adoption of the lowest common denominator. However, we believe that the race to the bottom can be reversed by promoting comprehensive best practices across the industry," Capt Roy explains.
"By setting the right trends and implementing forward-thinking regulations, we can ensure a positive upward trajectory towards greater sustainability in the shipbreaking market."
EEC is writing a handbook of best practices that aims to address the obstacles encountered and provide comprehensive guidelines for implementing standardized operating procedures based on the highest available standards. With practical insights and adaptability to evolving industry standards, it seeks to elevate ship recycling practices across the board.