Elegant Exit Company buys Wan Hai veteran for green recycling
Netherlands-based Elegant Exit Company (EEC) has acquired the Wan Hai 165, a containership built in 1998, from Taiwanese shipping company Wan Hai Lines.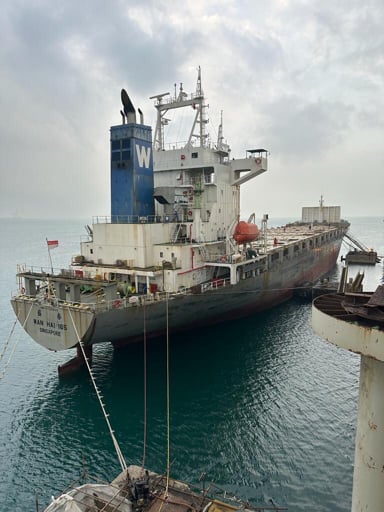 The vessel was put up for demolition sale as part of a wider bidding process Wan Hai launched at the end of last year covering ten end-of-life containerships. Demolition buyers were invited to submit their bids for each respective vessel at ten green recycling yards that hold a valid statement of compliance with the Hong Kong Convention for the Safe and Environmentally-Sound Recycling of Ships, 2009 (HKC).
This acquisition is part of EEC's commitment to sustainable and responsible ship recycling practices. Namely, the company has embarked on a mission to 'revolutionize' the ship recycling industry by introducing cutting-edge finance and industrial processes. EEC has partnered up with ship recycling facilities that are in compliance with the most stringent ship recycling standard.
The need for sustainable ship recycling practices is growing as the majority of ships still end up dismantled on South Asian beaches at yards notorious for their neglect of environmental and work safety rules.
To achieve its goal, EEC plans to purchase and own a fleet of ships that will be operated until their planned recycling date. The company will also introduce a sale and leaseback construction model with the residual value and end of lease aligned with the recycling date, ensuring a streamlined and sustainable process.
The company is working with partners which include Bahrain-based Arab Shipbuilding and Repair Yard Company (ASRY), which has recently obtained the statement of compliance certificates for the Hong Kong Convention and European Ship Recycling Regulations. Other partners include structural steel products producer SULB, Azzaron Overseas and Dammam Shipyard.
"The true measure of success is not the absence of obstacles, but the ability to overcome them. The fact that our game-changing concept has been validated through the winning of this ship in a global open public tender from an unrelated highly reputable and ethical company speaks volumes and solidifies our proof of concept," Chairman Uday Yellapurkar said commenting on the acquisition.
The Wan Hai 165, will undergo sustainable and responsible ship recycling at ASRY yard, located East of the Suez Canal.
The ship is currently alongside at ASRY, awaiting approval from the Supreme Council of Environment (SCE). The Wan Hai 165 will be freed of hazardous substances and will undergo a rigorous process of removal.
The accommodation block will be removed layer by layer and the ship will be placed in a floating dry dock to reduce its weight to approximately 4500 tons. The ship will then be pulled up the slipway for further processing and eventual cutting into blocks of up to 25 tons for transportation to the secondary and tertiary cutting zones.
"As ASRY continues on its modernisation drive," commented ASRY Managing Director, Mazen Matar, "environmental sustainability is a vital part of the facility's future operations. As a responsible member of the maritime industry, we must not tolerate harmful and dangerous practices of ship recycling, which are common across the globe. We have now achieved compliance with the strictest international standards with a view to being able to offer a sustainable, responsible and affordable alternative for vessel owners with end-of-life maritime assets. There is also natural synergy with nearby steel production facilities, who can benefit from this new initiative."
"This lady marks a historic moment in our journey towards a more sustainable ship recycling industry. EEC is proud to lead the way and offer ship owners a responsible and sustainable exit for their ships," Rein Amels, Director EEC.