Electronics Support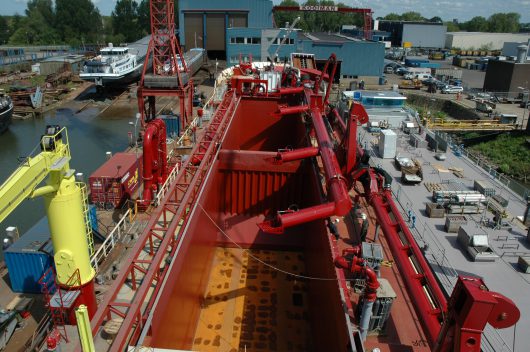 By Bachmann Kooiman
The first project between Bachmann Electronic and the Kooiman Marine Group.
A veritable hive of activity; that is the best way to describe daily operations at the Kooiman Marine Group's Zwijndrecht shipyard. There are multiple ongoing projects to be seen as the yard's slipways and outfitting quays are all occupied, as is the covered shipbuilding hall. "We work with a clear vision to offer a wide scope of services to the broadest possible range of maritime sectors," says George Beute, manager operations at Kooiman Ship Electric, part of the Kooiman Marine Group. "This includes design and engineering, new build, repair and conversion, pipefitting and interiors to the dredging, offshore, inland shipping, harbour and fisheries industries."
These services also include Beute's own field of expertise; maritime electronics. And one contract in particular demonstrates how the Kooiman Marine Group is tackling technological developments in this area in a proactive manner. "This is the conversion of a 90-metre dry bulk carrier into a trailing suction hopper dredger with both wet and dry offloading capabilities. In terms of electrical systems, our aim was to have efficient, and therefore cost effective, use of cable. The primary aims of the client were to maintain flexibility and reduce the amount of hardware press buttons. We achieved this by using remote I/O [input/output] applications with straightforward, user-friendly controls."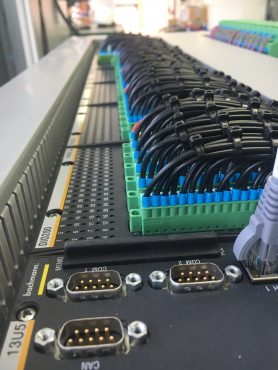 It was at this point that the Kooiman Marine Group called on external support from automation technology suppliers Bachmann Electronic. "We knew that we needed to develop our software engineering skills, so we decided to bring in Bachmann; a company that is definitely in the top segment of maritime electronics," Beute adds.
Training course
The cooperation began by initially addressing Kooiman's aims for the project, states Joeri ten Napel, key account manager marine for Bachmann electronic. "In terms of programming languages, there are so many options open. We had to find the most suitable for their requirements, while matching their way of thinking regarding user-friendliness."
Bachmann then continued their support by offering three one-day training courses at their Dutch offices, as well as a two-day course in the company's corporate headquarters in Austria. "There was a two-week interval between each training day, during which they could experiment with a test set," Ten Napel goes on to say. "We saw very quickly just how committed Kooiman's team was in making this project work."
Specifically for the dredger conversion, Bachmann supplied three PLCs, and 4 touchscreens incorporating 600 I/O systems. "You can see the advantage of delivering a system like ours. Software can be added where needed, meaning that adjustments and modifications can be made quickly and easily."
Programmer potential
After showing great potential during the initial training days, Wouter Joosten, PLC Scada programmer at Kooiman Ship Electric, played a key role in the software programming during the entire project. Consequently, Joosten has written software relating to numerous aspects of the future dredger's daily operations. These include dredging controls, tank measurements, diesel motor controls, all exterior lighting, and an overview of electric and hydraulic systems. "I had some previous programming experience, but not as in-depth as I have learnt during the cooperation with Bachmann. If I ever had a problem, I could always approach them for assistance," he says. "My personal knowledge – with HMI [Human Machine Interface] and touchscreens, in particular – has increased significantly in the last year and a half." The technical assistance that Joosten is referring to relates to the remote desktop support provided by Bachmann application engineer Hans van der Sman, which the company also supplements with additional education, conceptual advice, templates and proof of concepts.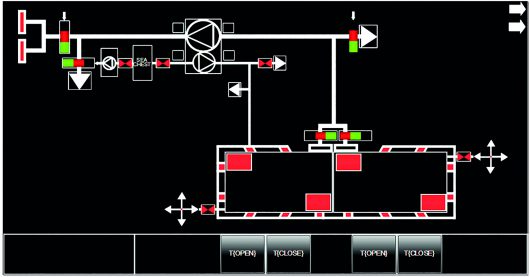 Looking ahead
With the dredger conversion close to completion, how does Beute see the new knowledge being applied to future projects at the yard? "What we are seeing from the market is that, whether it's an inland shipping barge or an offshore vessel, ships need to be able to be operated in an integrated way. This trend is only going to increase. By gaining these new skills, we have the relevant knowledge in our own hands. We are looking forward to taking on more complex projects in the future."
Ten Napel agrees: "We have seen what is possible with this project. The Kooiman Marine Group has the potential to offer many more options to its clients in the future. They have the framework so if they want to offer condition monitoring, power management or remote monitoring, for example, all this is possible. It is just the beginning."
Note: The opinions, beliefs, and viewpoints expressed in this article do not necessarily reflect the opinions of Offshore Energy Today.