Elia Completes First Link Between MOG and Belgium
The Modular Offshore Grid (MOG), the switchyard platform in the North Sea that will soon bundle together cables from offshore wind farms and connect them to the Belgium mainland, Elia said.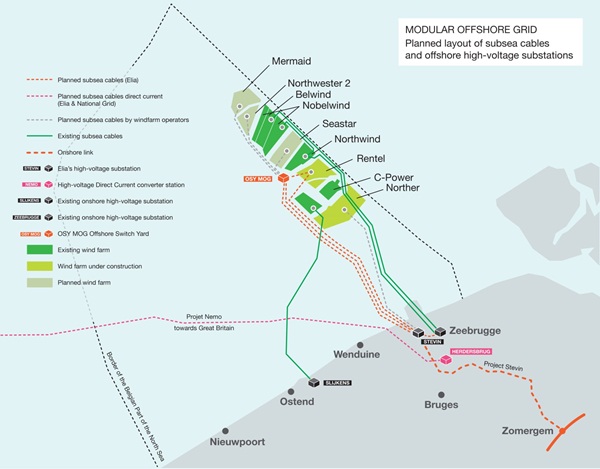 The first of two cables was connected to the mainland at Zeebrugge, meaning that the MOG is nearly ready to fulfil its key role in further developing offshore renewable energy from September onwards.
The Modular Offshore Grid in the North Sea is taking shape. In April, the topside was successfully fitted onto the jacket. The plug will bundle the electricity generated by four wind farms (Rentel, Seastar, Mermaid and Northwester 2) and transmit it to the mainland via joint subsea cables.
The plug is located 40 km off the Belgian coast and will enable wind farms to transmit as much as possible of the electricity generated to the mainland. In total, this will involve 130 km of 220-kV cables, which will be laid under the sea, leading from the offshore platform to Zeebrugge beach.
In early May, the first of two cables was successfully connected to the mainland, where it was then connected to the existing onshore underground cables leading to the Stevin high-voltage substation in Zeebrugge. The second cable is expected to reach the shore later this month. Work is also under way offshore to connect the cables to the platform, which is a major technical feat.
The MOG is needed to transmit the renewable energy generated by wind farms safely and efficiently to the mainland. The project enables 40 km of cable to be saved and will also provide greater security of supply: if one of the offshore cables fails or is faulty, the wind farms will still be able to inject their energy into Belgium's grid.