Eolink takes home BlueInvest 2021 award for ocean energy solutions
French floating wind start-up Eolink, a company supported by the Marine Energy Alliance (MEA) project, has been declared a winner at BlueInvest 2021 Awards.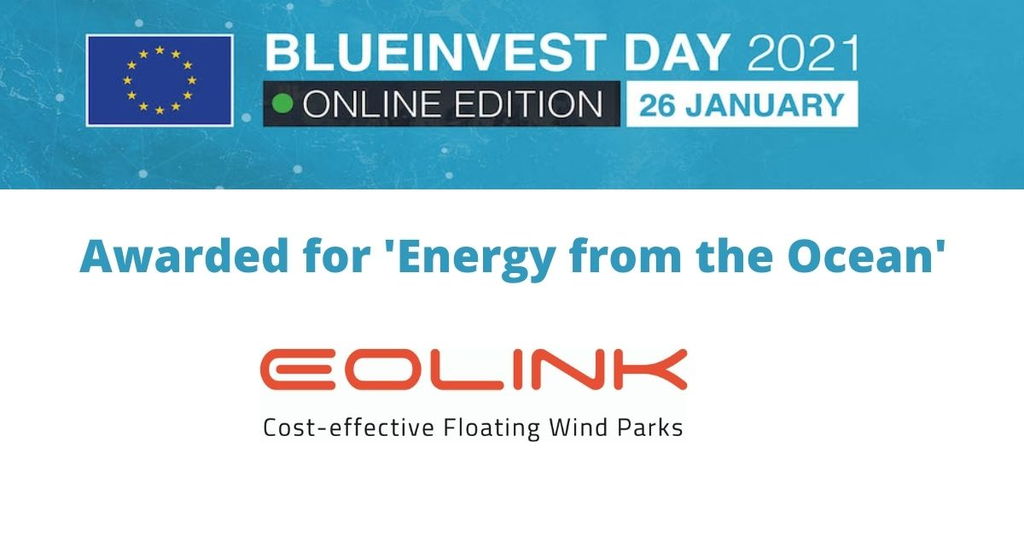 Eolink won the BlueInvest 2021 award in the 'Energy from Ocean' category, which acknowledges innovative and promising solutions and technologies in the field of ocean renewable energy.
The company is developing wind turbine technology specifically designed for floating applications at sea. The concept, already tested at scale in real-sea conditions, integrates all the characteristics of its marine environment, taking advantage of the benefits and minimizing the constraints, according to Eolink.
Aside from Eolink, other finalists in the same category included Eco Wave Power, Waveroller, and two more MEA-supported companies GKinetic Energy and Heliorec.
The finalists were given the opportunity to pitch their solutions to the jury and audience numbering over 700 registered participants, using 'a shark tank' format – five minutes pitch followed by five minutes of questions and answers session.
BlueInvest aims to boost innovation and investment in sustainable technologies for the blue economy, by supporting readiness and access to finance for early-stage businesses, small and medium sized eneterprises (SMEs), and scale-ups.
The three other award categories for BlueInvest 2021 included Green Shipping Solutions, Sustainable Food & Feed from the Ocean, and Healthy Oceans & Resilient Coasts.
This year's categories were identified from technologies that had the highest level of interest from impact investors and are priorities for the EU Green Deal.
---
Want to stay updated about all activities of the Marine Energy Alliance and news about the industry? Subscribe now for the newsletter via here.