Extinction Rebellion activists dump manure outside BP's UK office accusing it of greenwashing & gaslighting
Members of global environmental movement Extinction Rebellion have dumped manure in front of BP's offices in Aberdeen as part of its protest against the fossil fuels industry, accusing the oil major of greenwashing and gaslighting.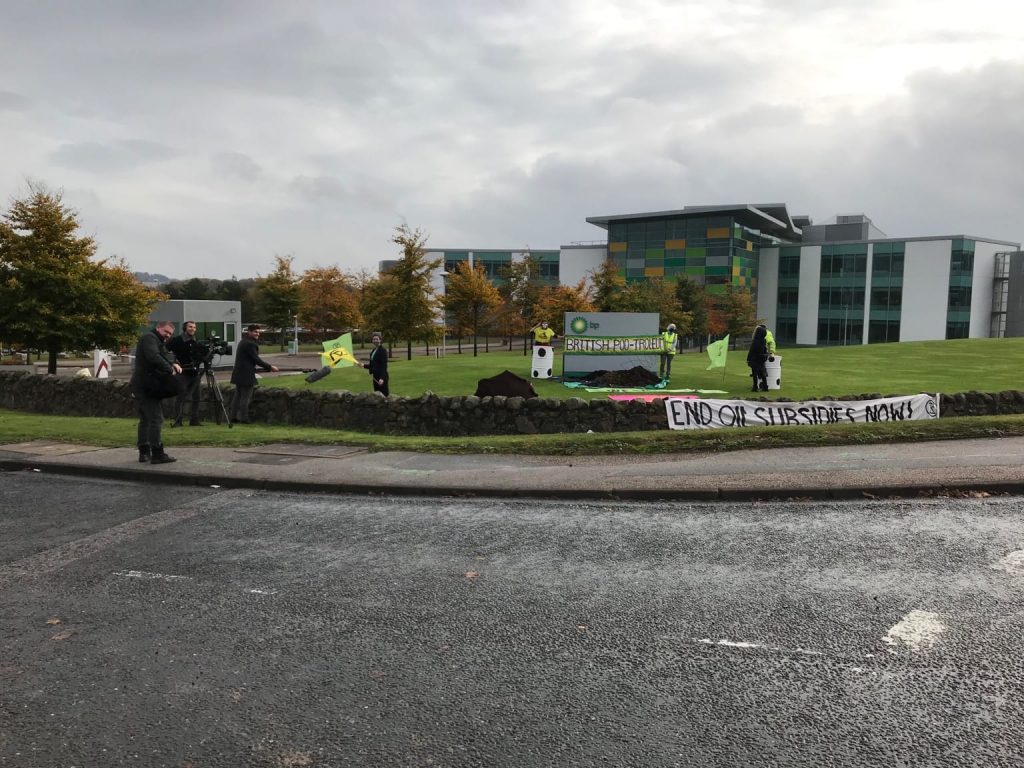 Extinction Rebellion Scotland on Tuesday kicked off the third week of direct action campaign Make The Connections by dumping mounds of manure outside the offices of BP in Dyce, Aberdeen.
The organization started the campaign earlier in October when three of its activists climbed the Scottish Parliament and dropped a banner reading 'Choose Oil or Choose Life: Act Now' over the entrance.
The campaign is "highlighting the collusion between governments, fossil fuels and finance in hampering action on climate and the ecological breakdown and putting profit before people".
According to the organization, the latest protest and the dropping of the manure was done to "remind local government, national government, and the public that BP are full of shit and can't be trusted".
The organization noted that BP is one of only 20 companies responsible for a third of all emissions in the last 70 years.
"But, as they contributed and profited from climate breakdown, they spread misinformation and doubt; funded climate change deniers and shady think tanks; spent millions on lobbying, spin, marketing – they even invented the concept of the individual 'carbon footprint' in a desperate attempt to divert attention away from their own incomparable impacts", Extinction Rebellion said.
The environmental group also said that, last month, BP partnered with Aberdeen City Council to 'decarbonise the city'.
Yolanda Cowen, from Aberdeen, said: "BP is now advising Aberdeen City Council on decarbonisation and dropping emissions. You wouldn't trust a tobacco company to provide cancer care, so why are our political representatives allowing the least trustworthy company to muscle in on the most pressing issue of our time? They are literally the last people who should be asked.
"Based on the evidence – their track record – BP will always put their profits before anything else. This has moved past greenwashing, this is gaslighting".
The organization emphasized that BP cannot be trusted to manage a fair transition.
Mim Black, from Edinburgh, said: "BP's net-zero commitments are full of bullshit. They have spent millions on rebranding before with 'Beyond Petroleum', while extracting countless barrels of oil and committing human rights abuses in pursuit of profit.
"Their newest attempt at rebranding, their net-zero commitments, are straight out of the PR playbook. We know what a poorly managed transition looks like, and we are heading that way in Aberdeen again.
"It's time to get BP out of the decision-making room. They will never put themselves out of business, they will never put people before profit".
Extinction Rebellion Scotland demands from the government to publicly acknowledge that oil companies cannot be trusted to deliver a just and green transition and that continued support for them will only lead to further destruction and suffering for communities across the globe.
The organization also demands BP to be excluded from climate talks and all funding/subsidies be halted and redirected to providing training in new fields for Scotland's oil and gas workforce.